We spent one week (Dec 17-24) Winter vacationing in Serre Chevalier valley in Hautes-Alpes, a two-hour bus ride South from Grenoble. We stayed at chalet studio in La Salle les Alpes/Villeneuve at the altitude of 1400 meters.
This sad little snowperson epitomizes our winter break.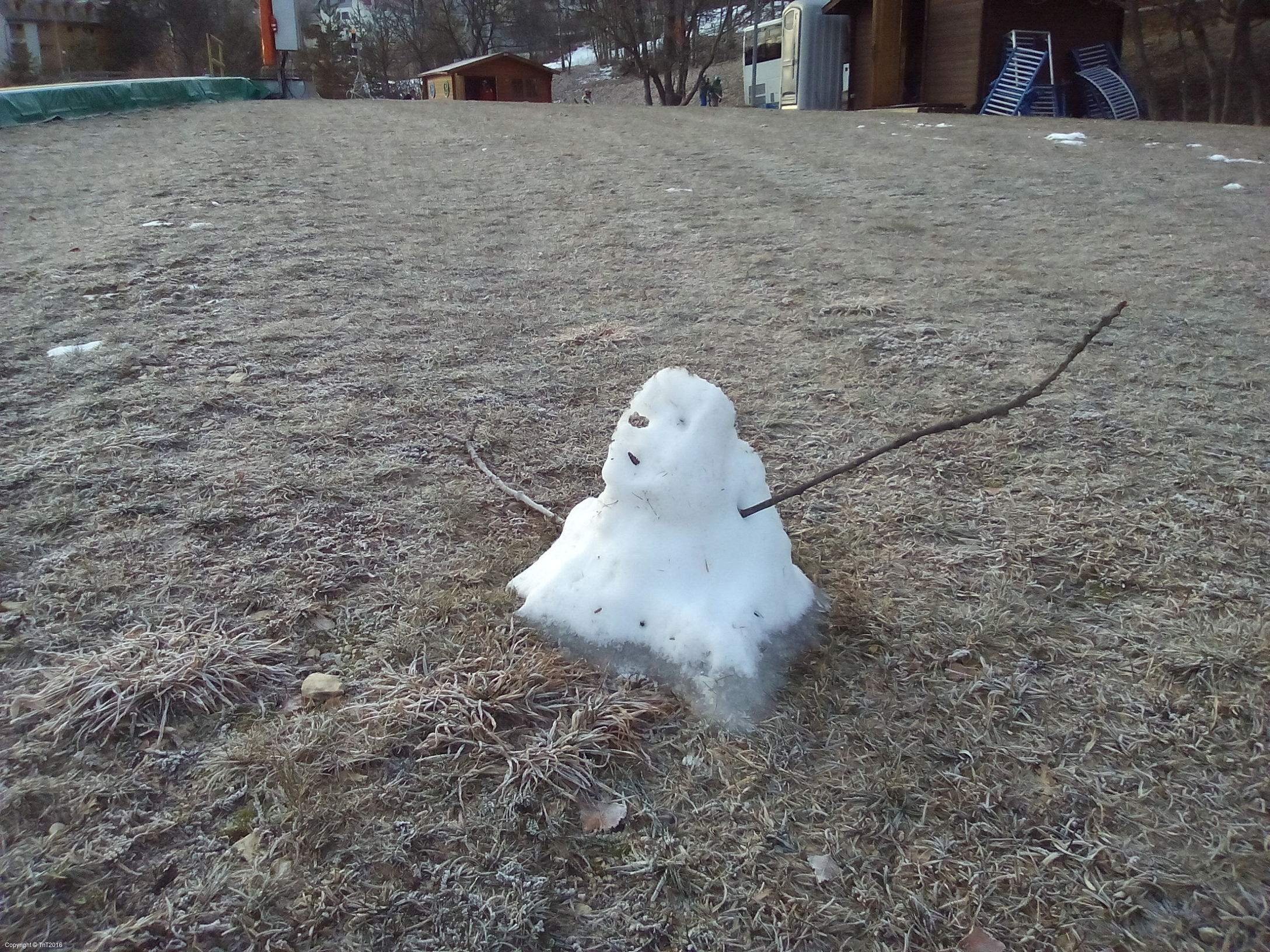 It was a lovely week, only that it was not really a winter vacation. The snow situation has been really poor throughout the French Alpes this year. We had planned on trying some Nordic skiing, but the closest we could find any skiing was 1) 20 kilometers away in Lautaret, which would have required a bus or taxi ride (too complicated); or 2) above 2000 meters of altitude, which would have required an approximately 7-kilometer hike uphill.
So, we did not do any skiing but spent every day either hiking and "snow shoeing", or running. In the week we hiked and ran 85.38 kilometers in 26 hours and 47 minutes, with the ascent of 3948 meters, and 5769 kilo-calories burnt.
Sunday: to Bergerie St. Joseph
On our first day, we attacked the slopes starting on our backyard at the edge of Villeneuve; here is the village seen from about 200 meters above. The downhill skiing runs on the opposite slope were few and all artificial snow. The snow guns were working all mornings.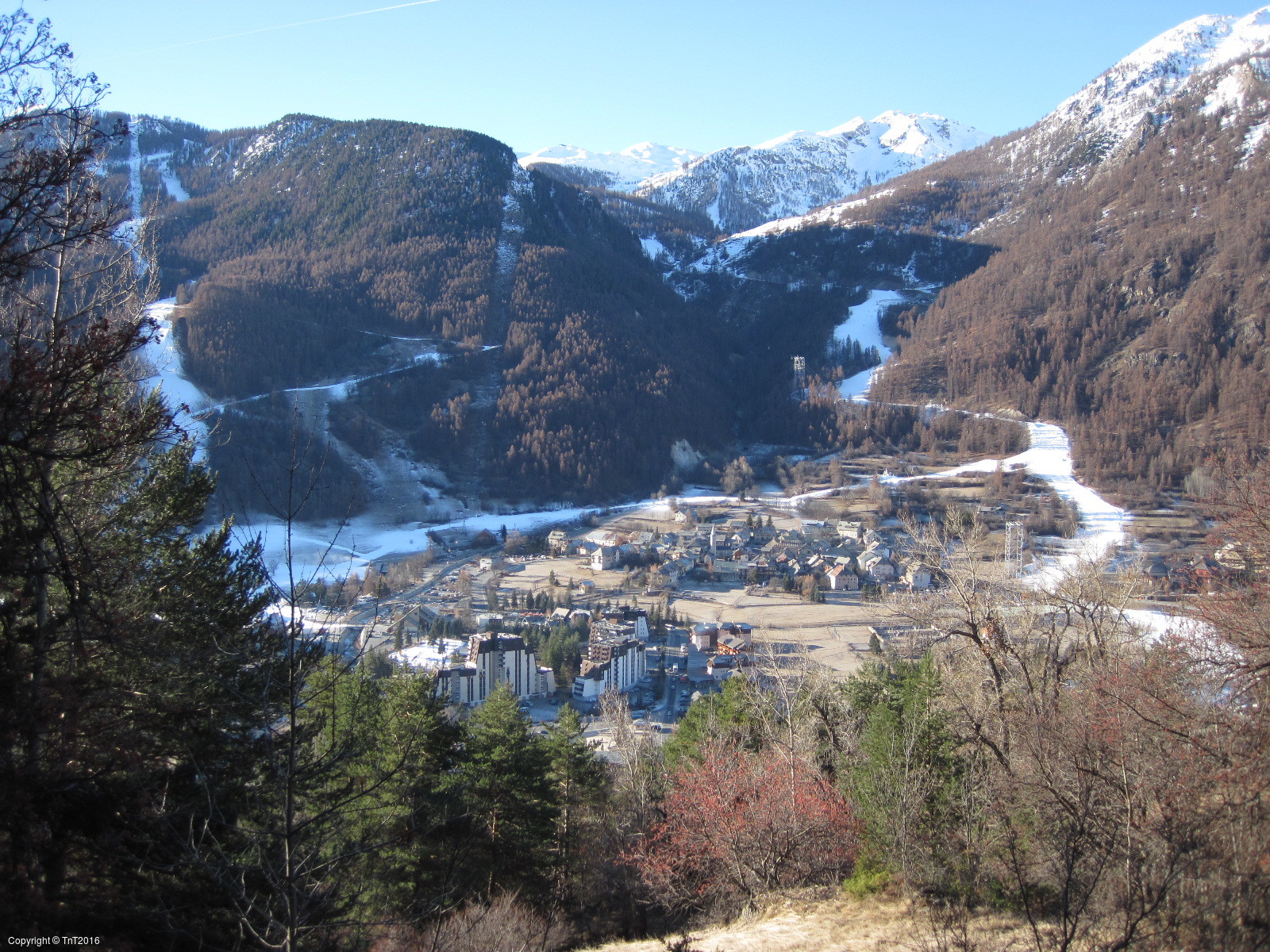 The town of Briançon further South in the Serre Chevalier valley. The winter pollution was pretty evident here at the higher altitudes, too.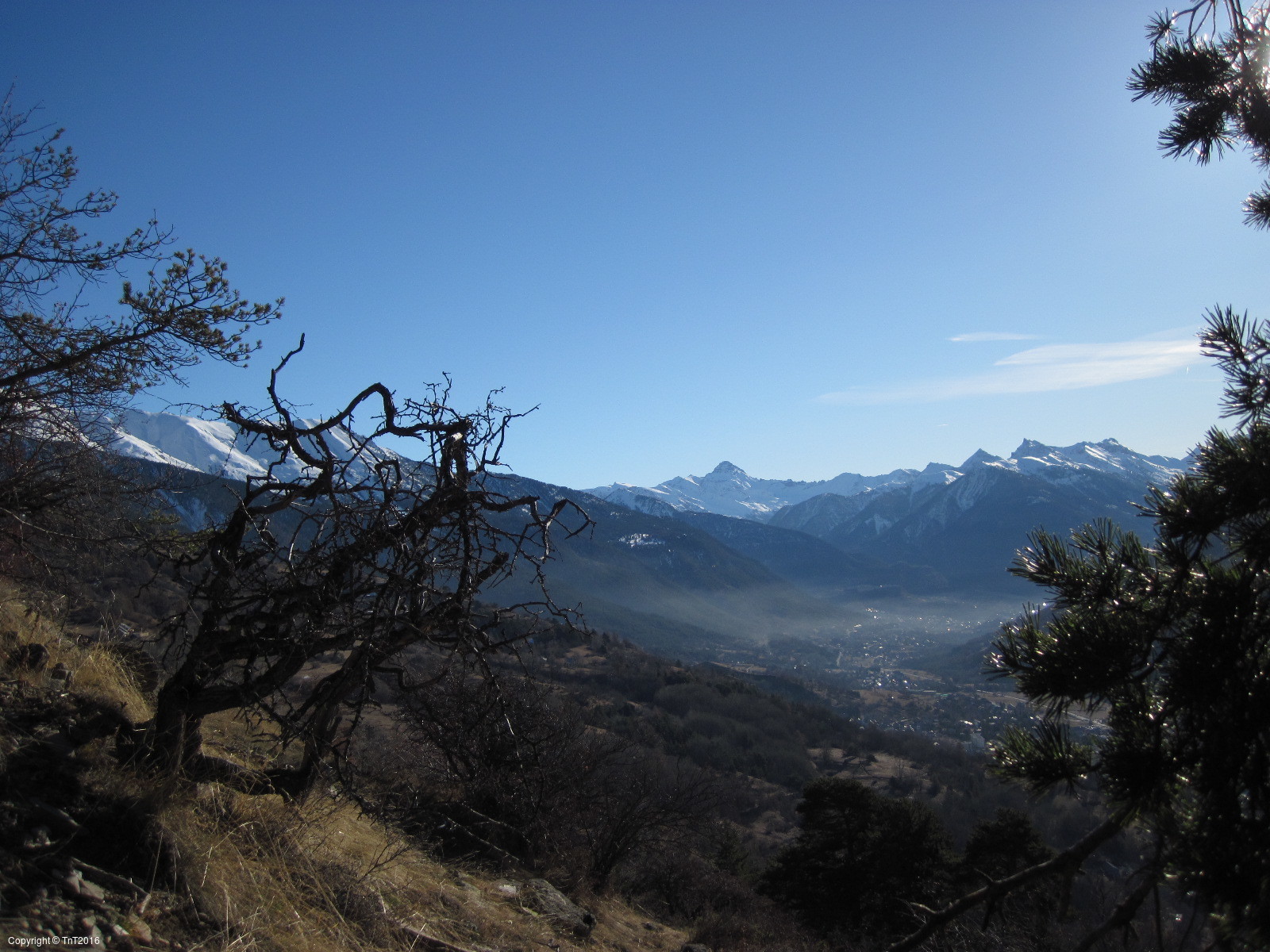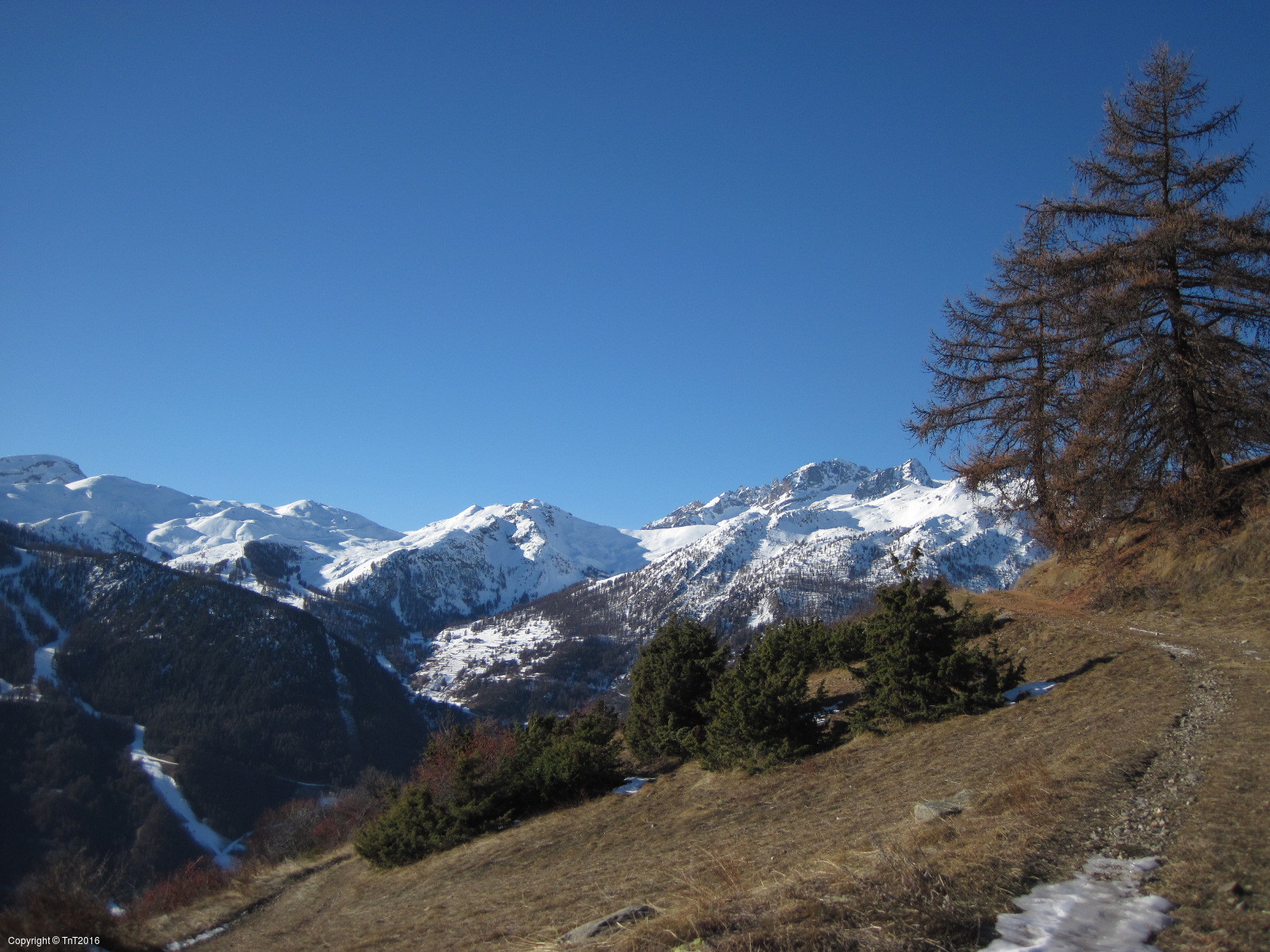 After 1980 meters the trail got more and more snowy, and icy at times.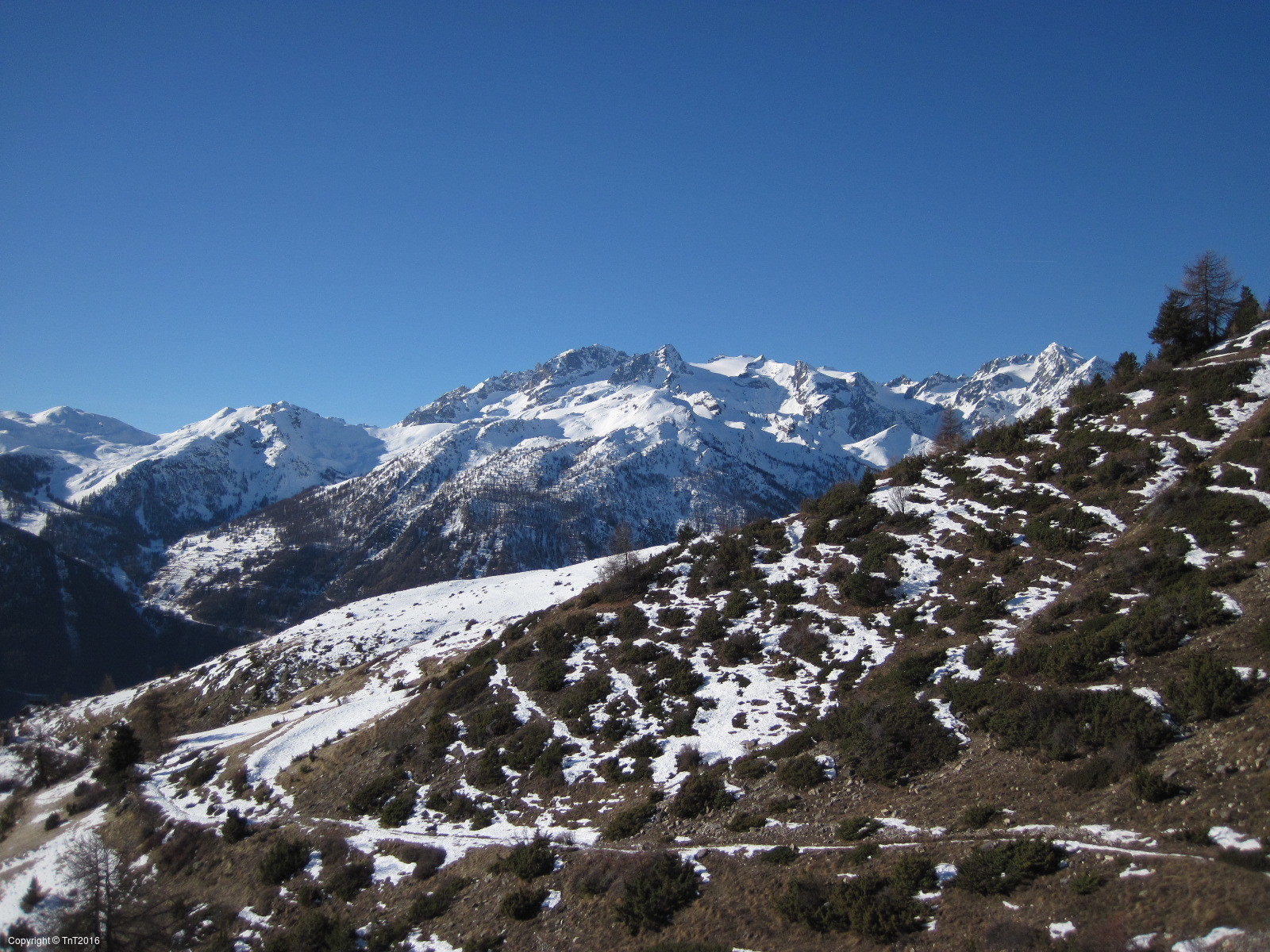 Then it turned all snow, but luckily it was quite hard so we could manage it in our hiking boots. The slope was still pretty steep, which did not make it too easy.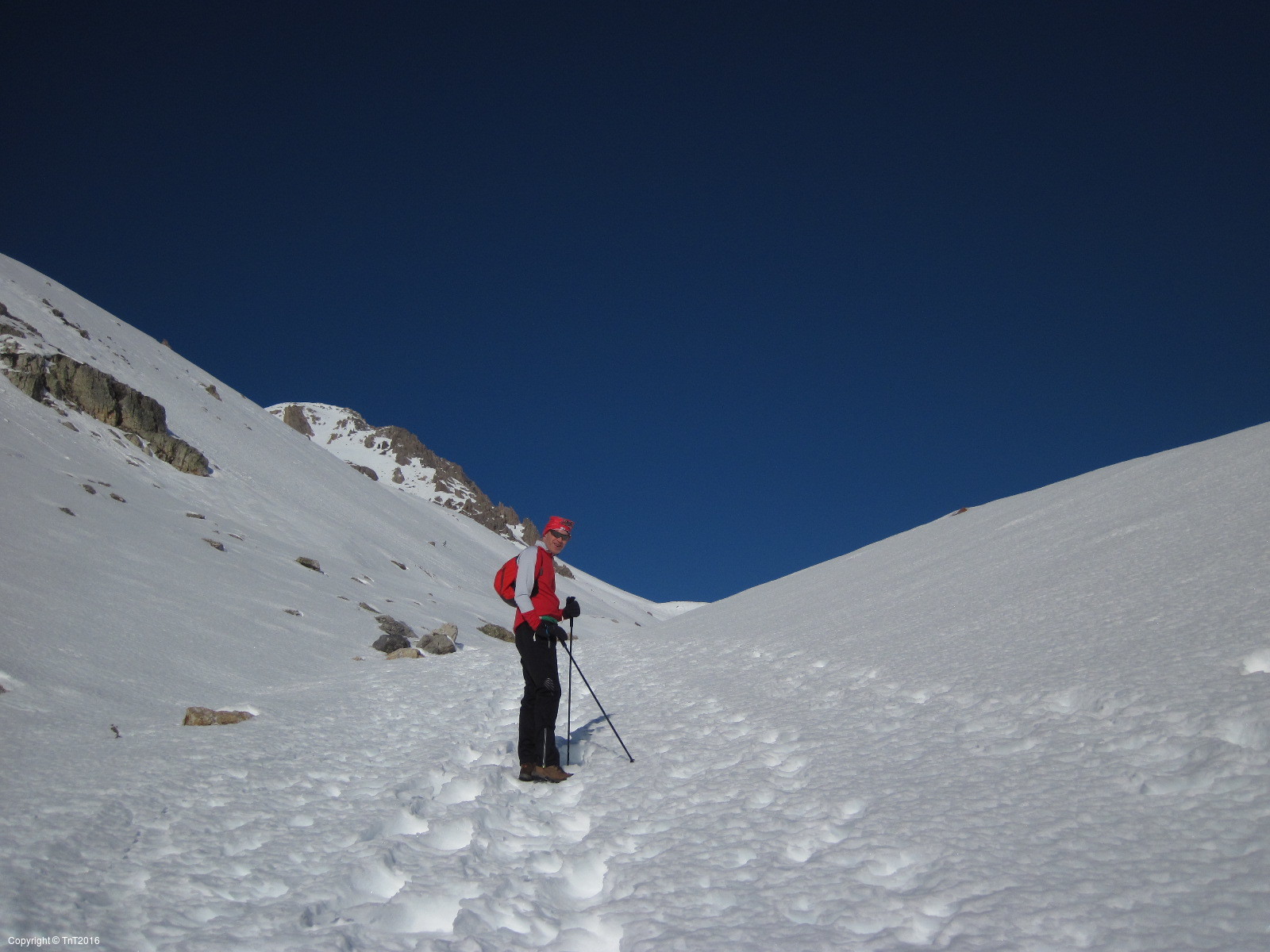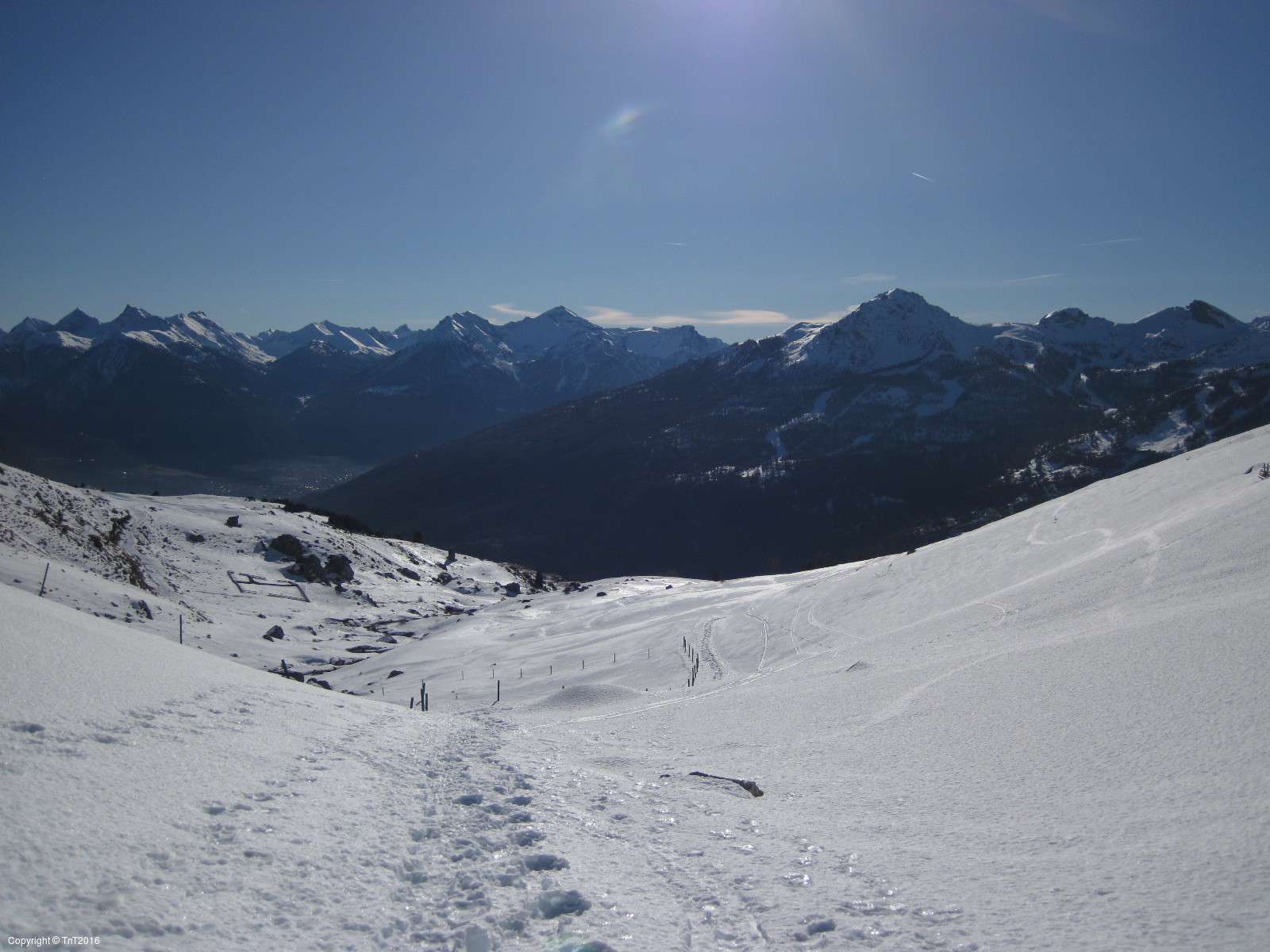 We had a lunch break at Bergerie Saint-Joseph (2192m).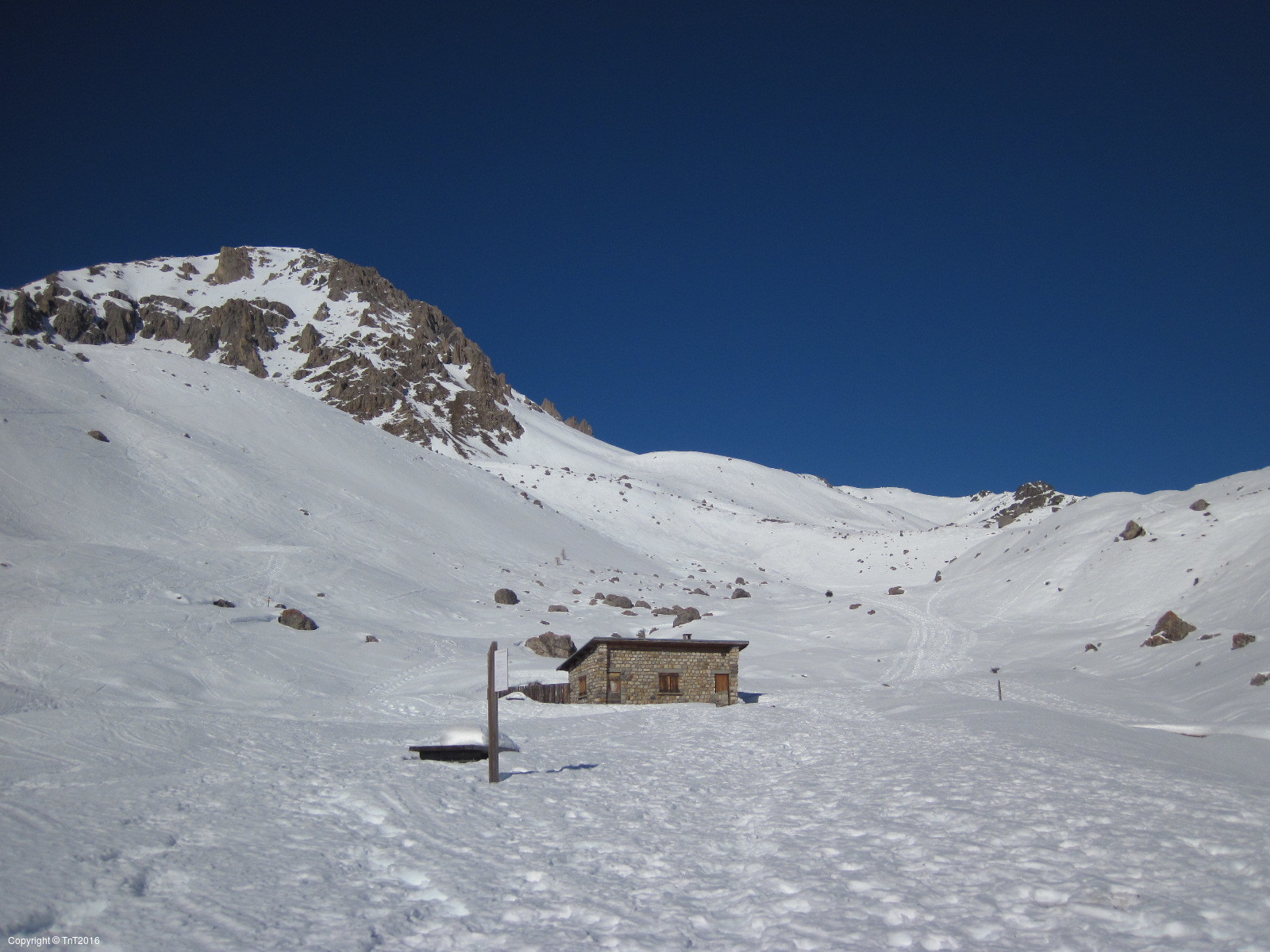 Then we planned to continue further North-West to Col de Buffère but found the snow too deep and soft to walk.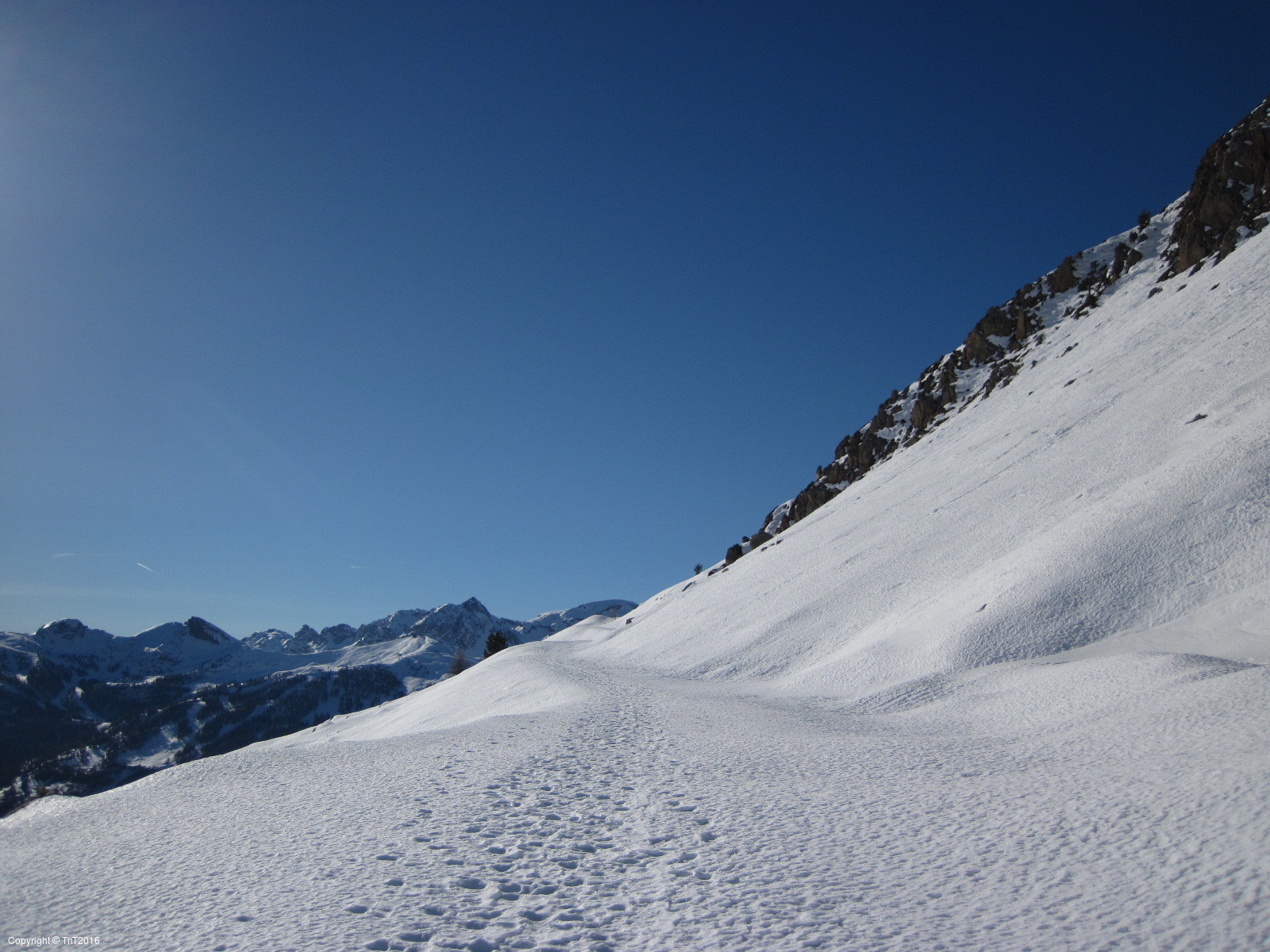 We turned back and took a bit different (and steeper) route back to our accommodation.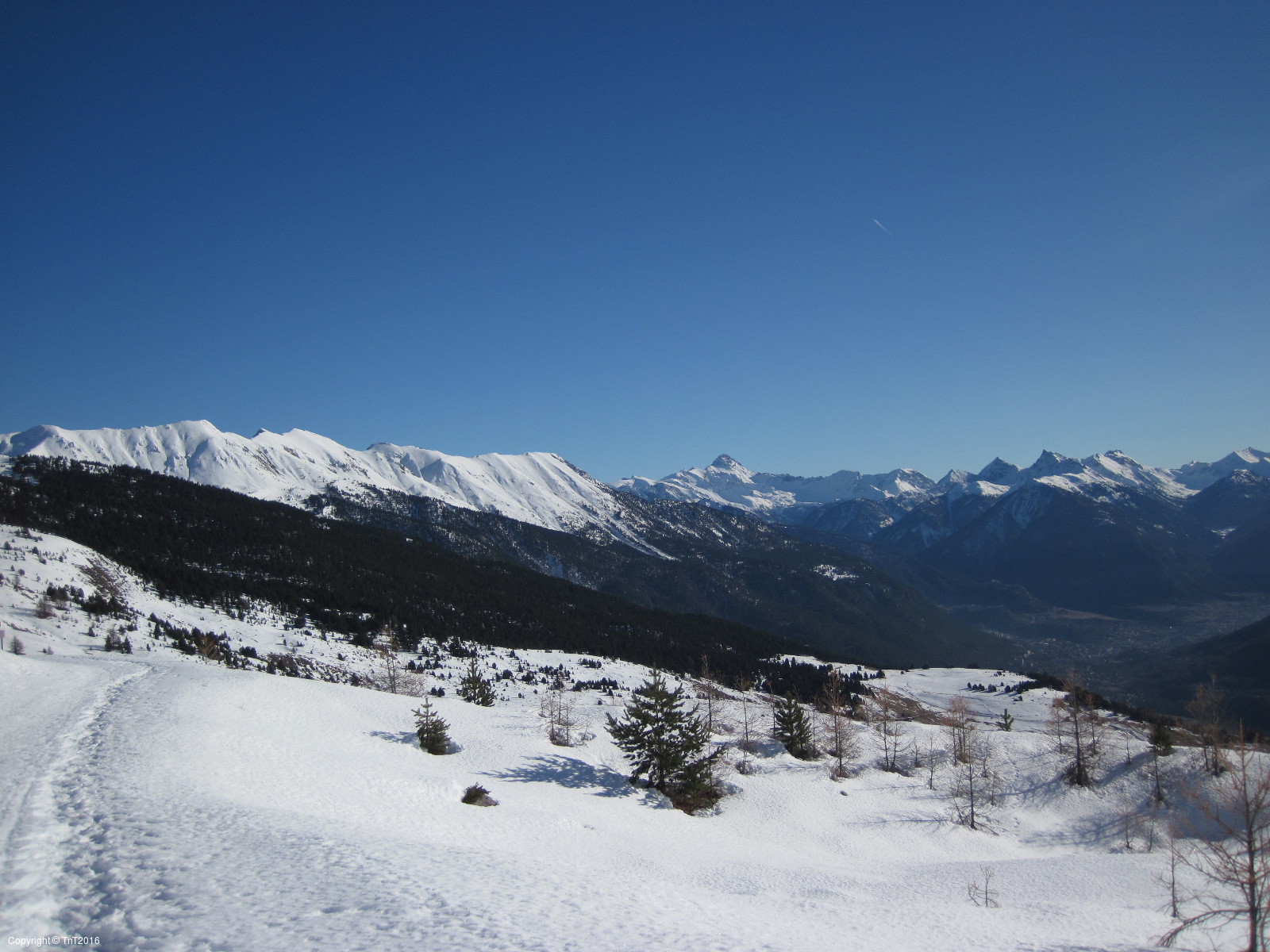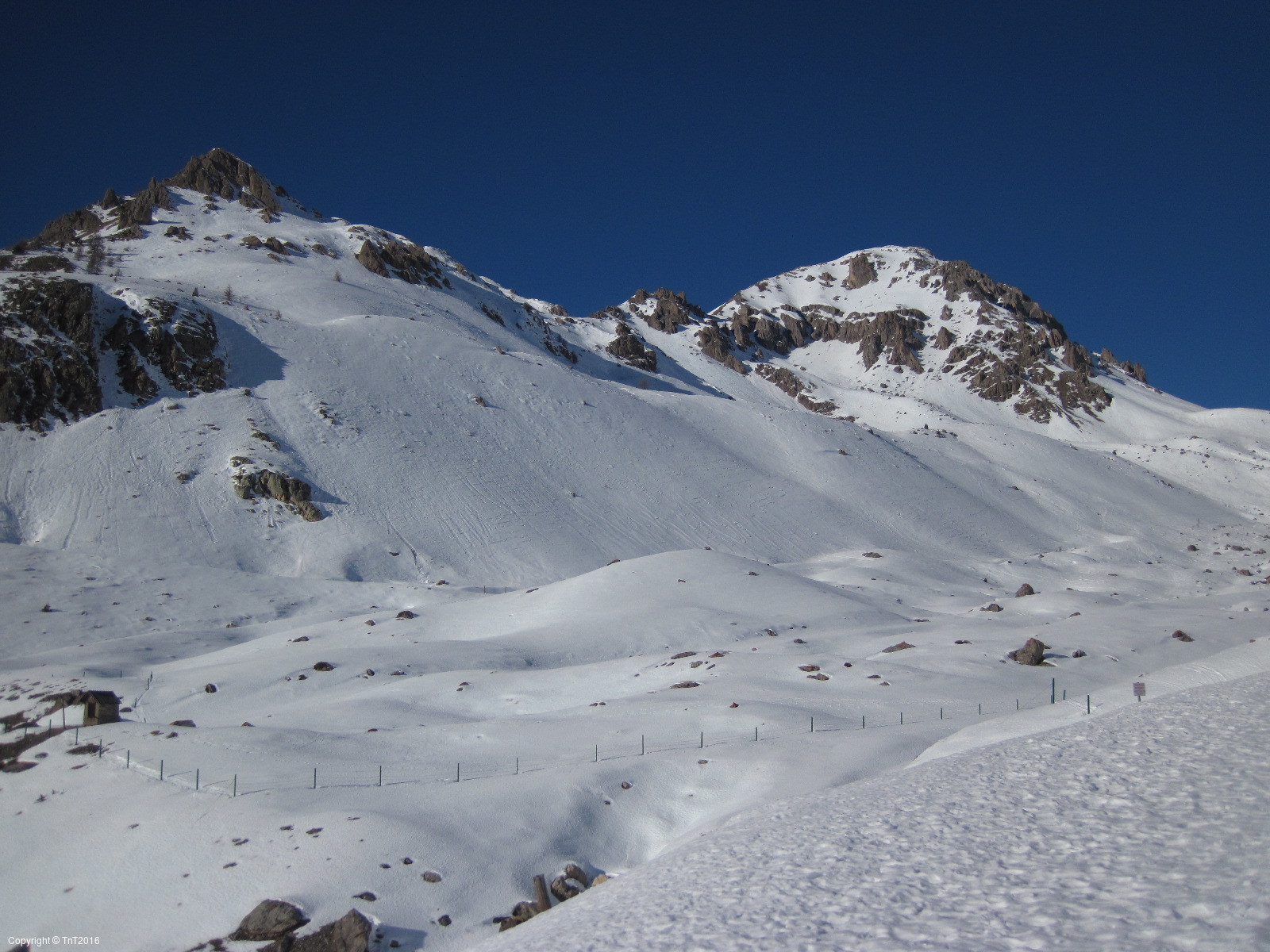 Monday: to Le Monêtier-les-Bains
Unfortunately our second day in Serre Chevalier valley did not offer the magnificent blue and white colors as the first did. It opened grey and grim, so we did not plan any great outdoor adventures but just an easy walk to the next town to North, Le Monêtier-les-Bains, the main ski resort in the valley.
Le Bez, Villeneuve. The cross country skiing tracks were supposed to start here.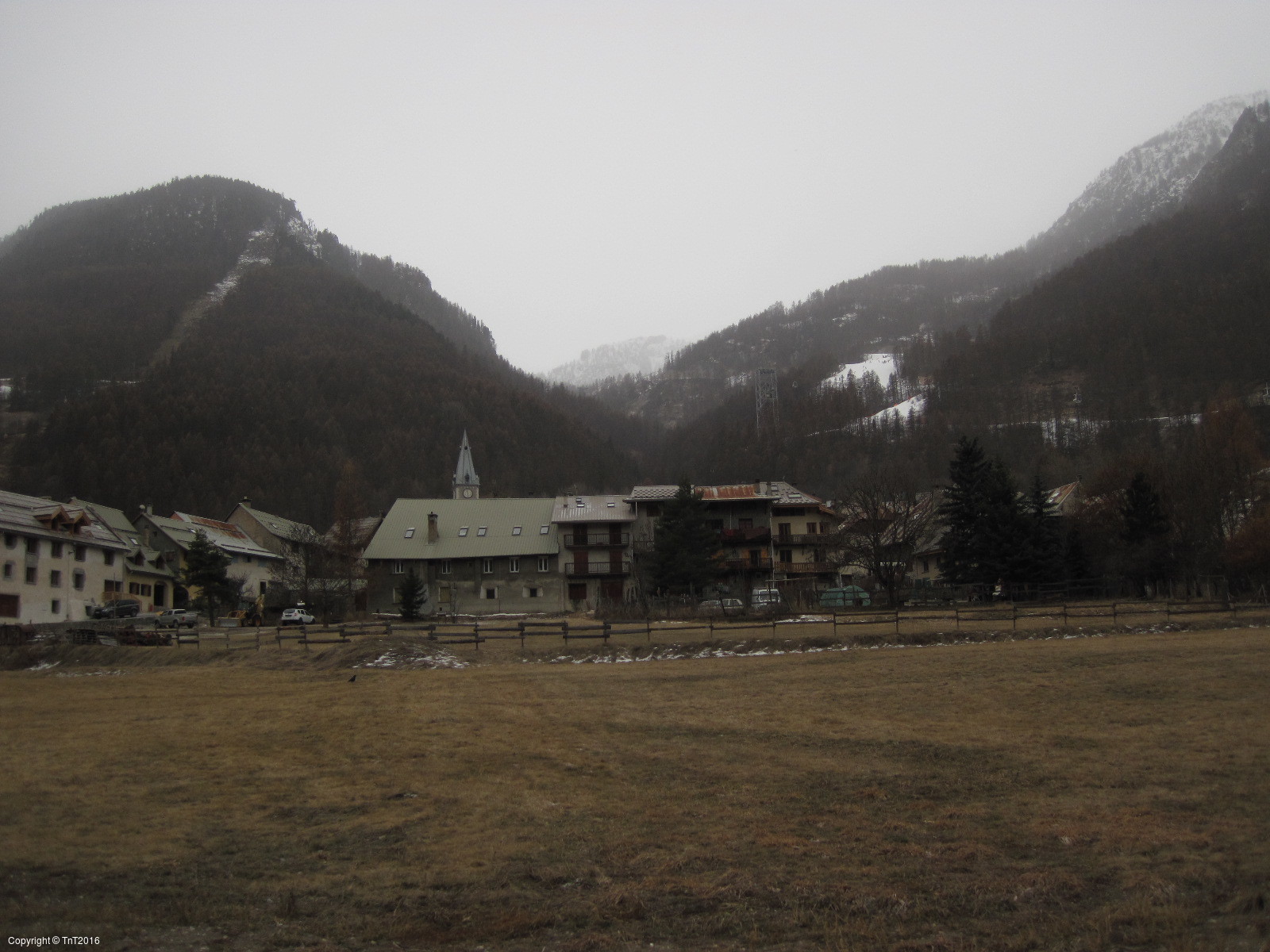 This was how much snow they had made for the beginner slope at Bez.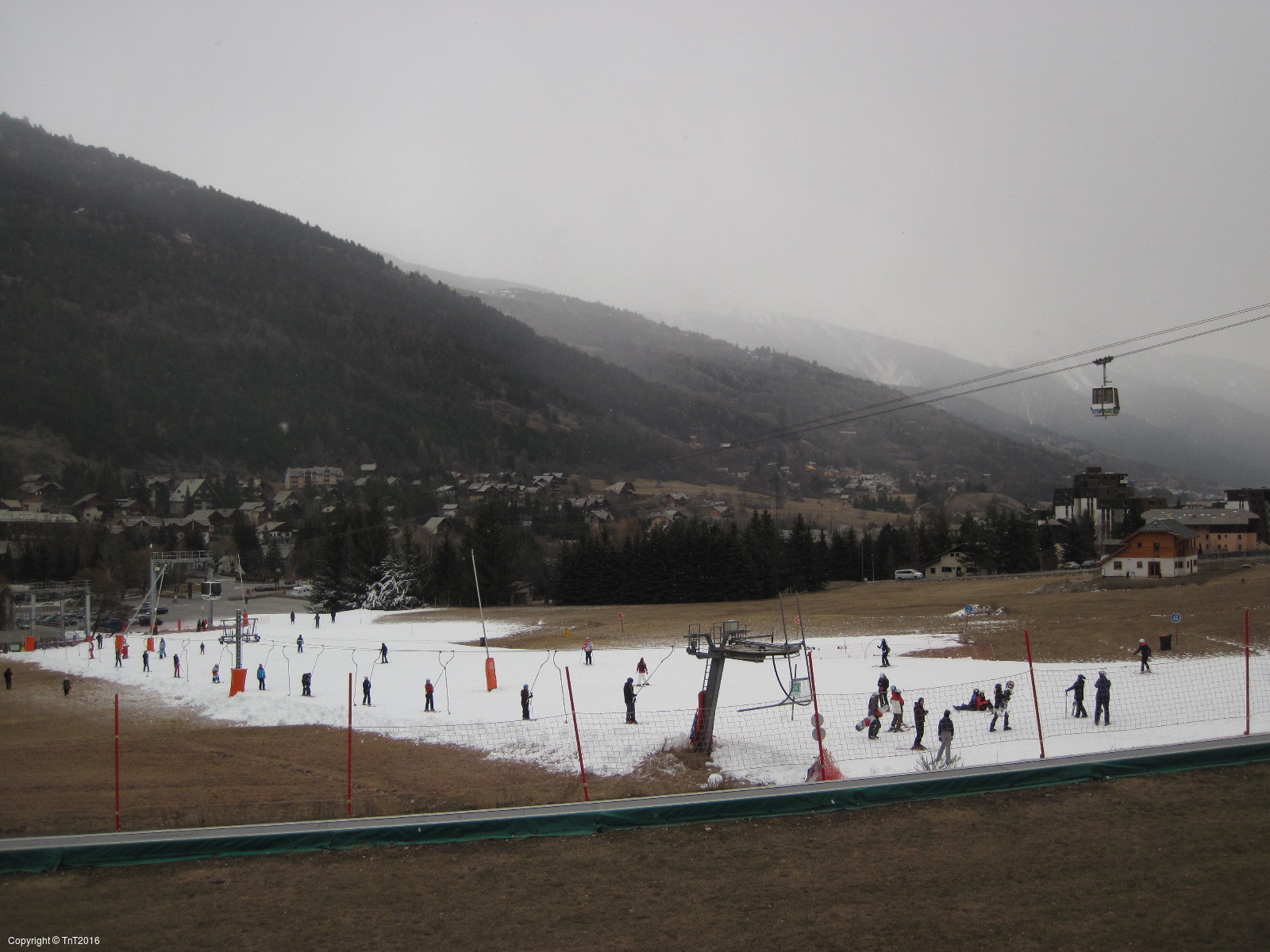 There was very light snow fall while we walked to Monêtier-les-Bains.

A 600-meter cross country skiing track, and one lonely skier.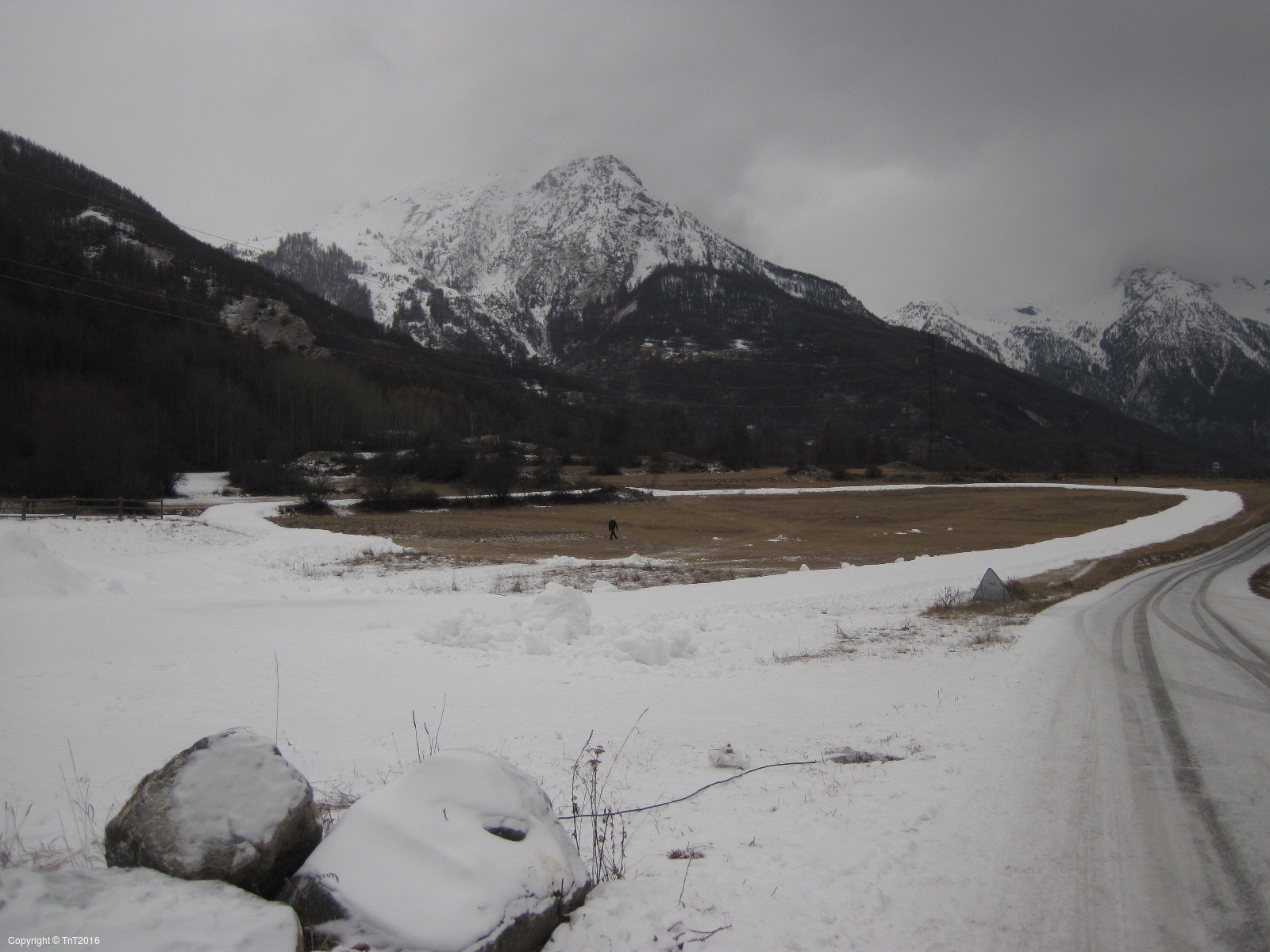 On our way back we walked past this large pasture with just three tiny horses on it. As we stopped to take a break, they started approaching us from far away while casually munching the grass.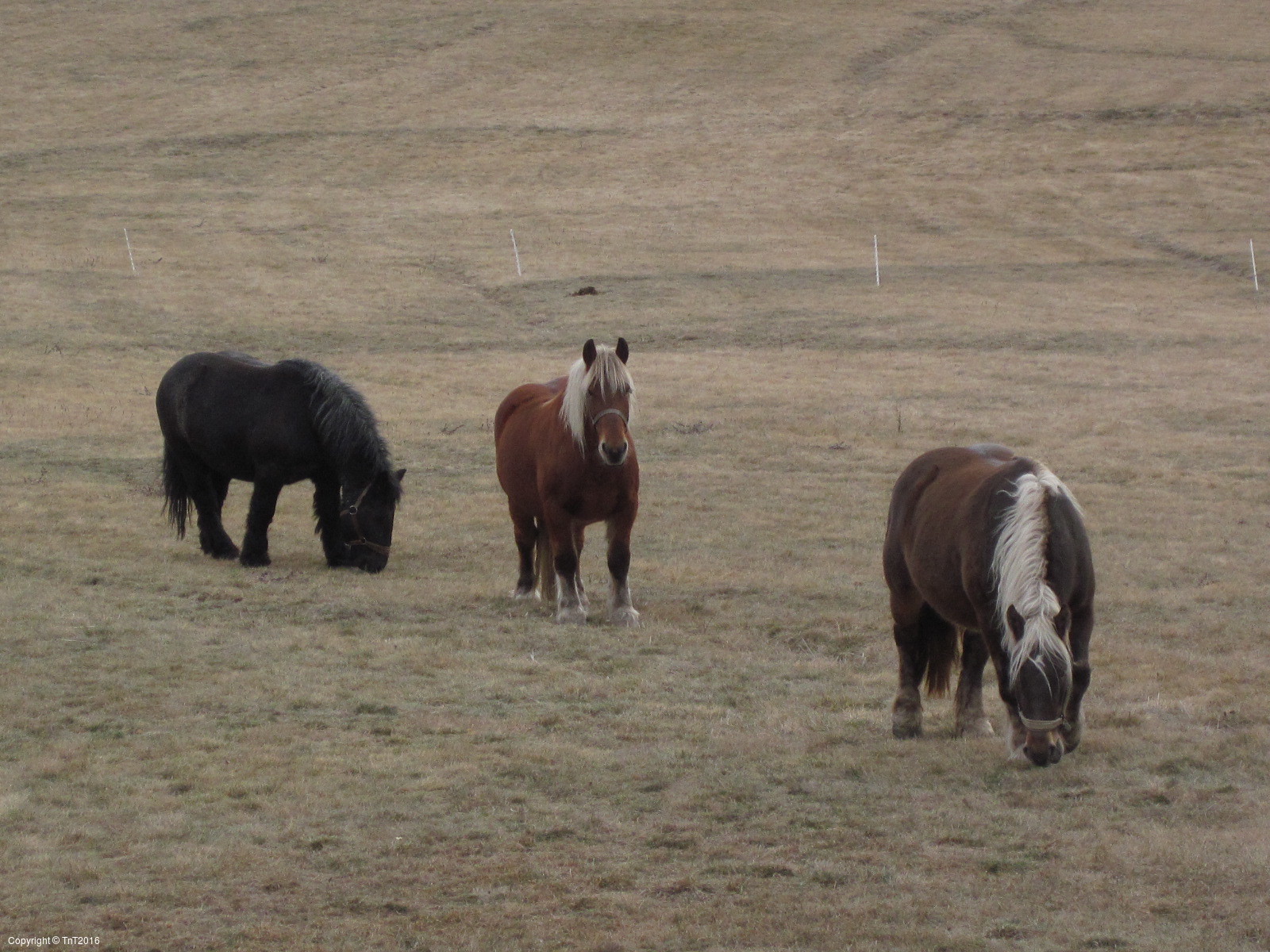 Then we also saw the first glimpses of the blue sky.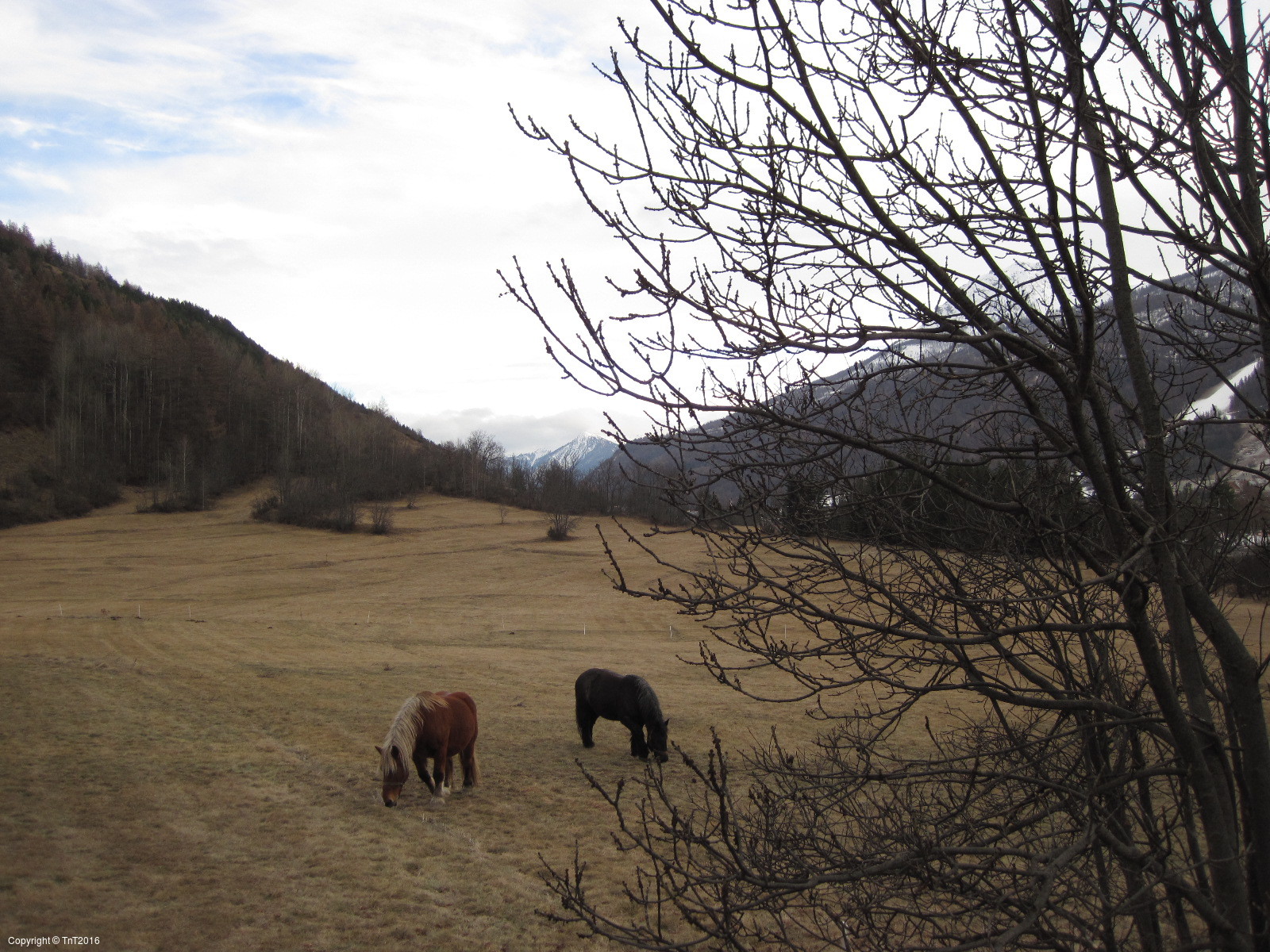 Tuesday: to Chantemerle and sundials
Another grey day. We walked to the next town to South, Chantemerle, also a small ski resort. We took a snowy trail there and roads through small villages back. I guess this was the village Les Pananches.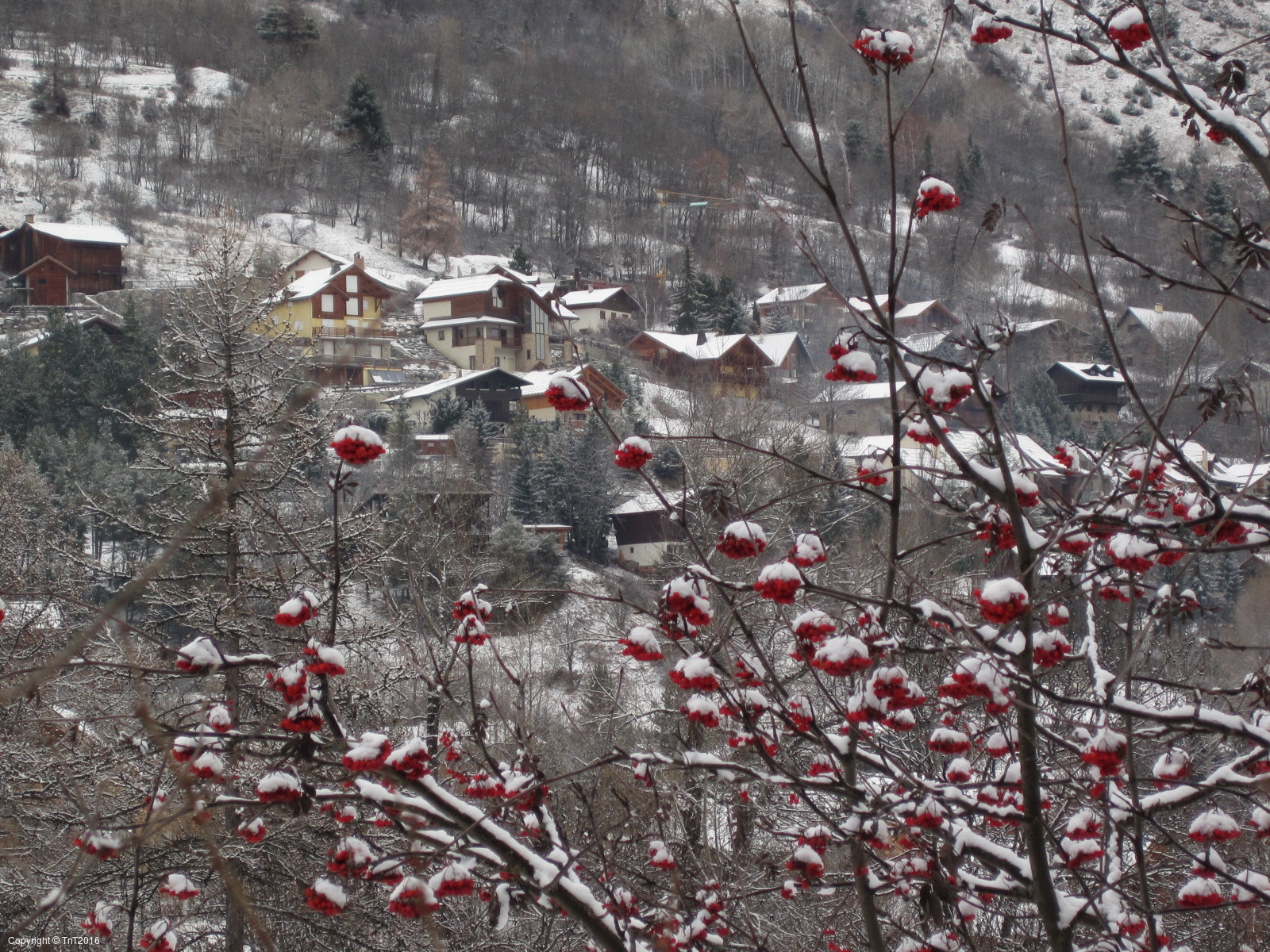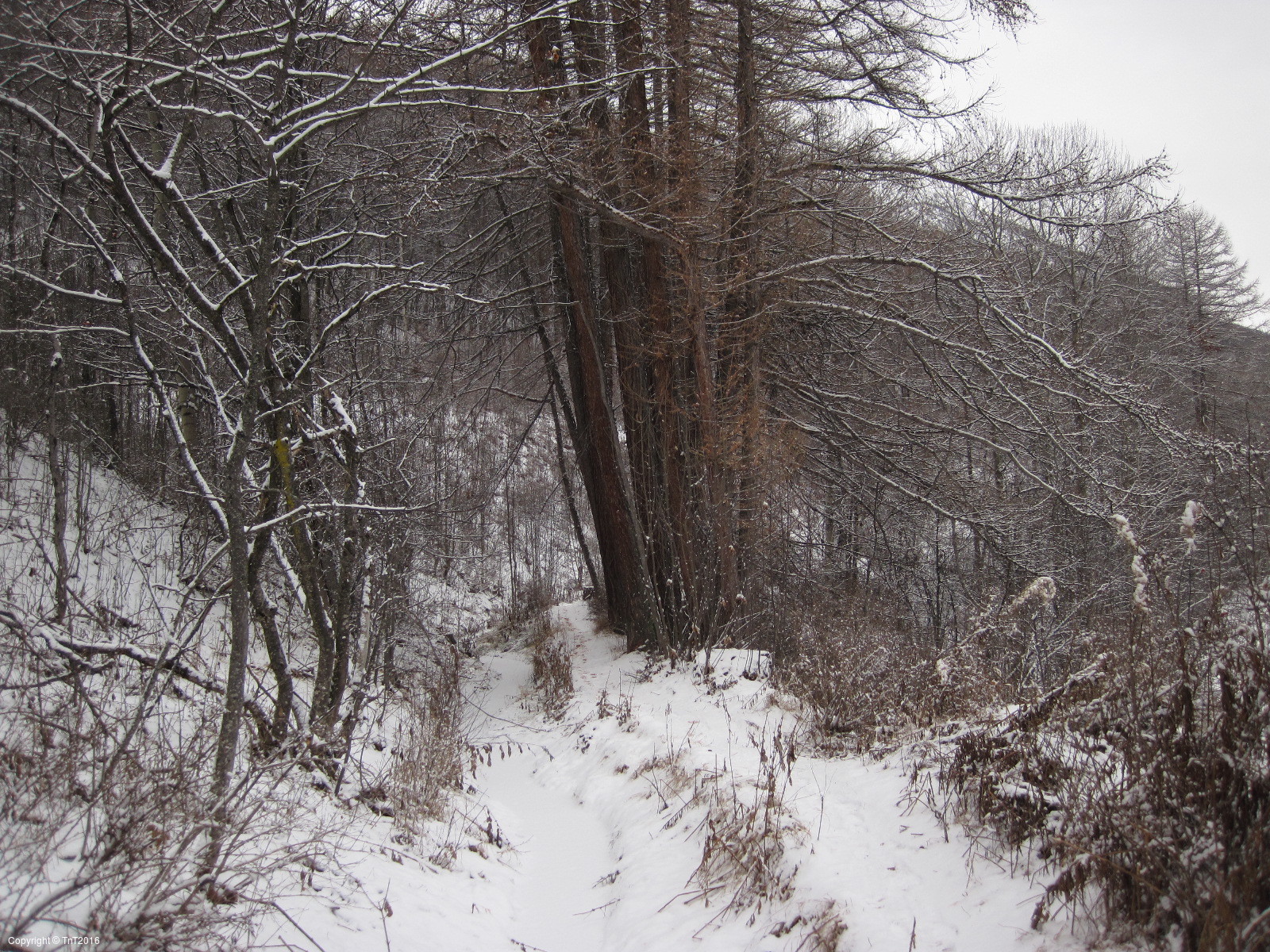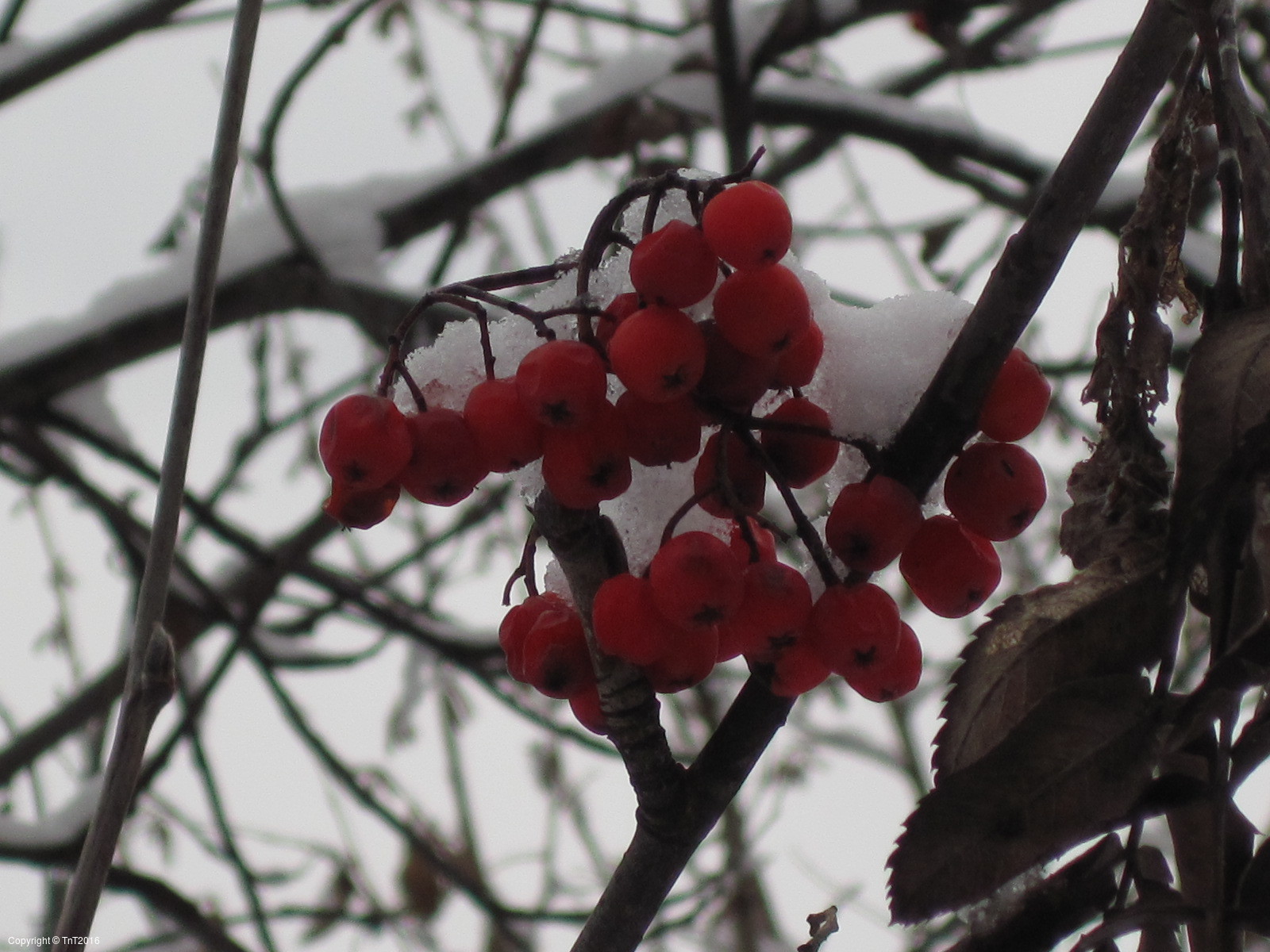 A view back to Chantemerle.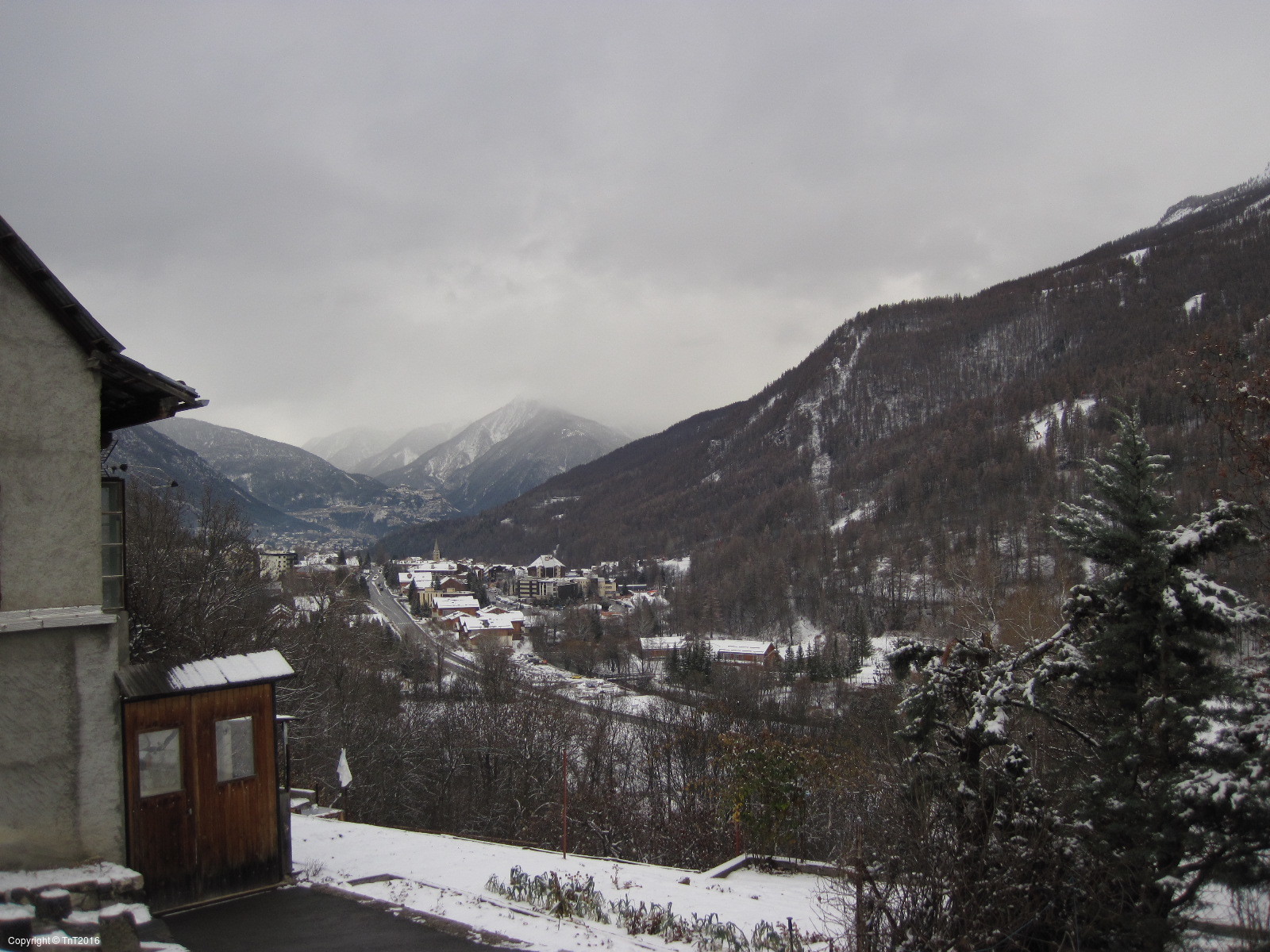 After our walk we had lunch in La Salle at Restaurant La Pastorale. We had a three-meat grilling menu for two; the meats we grilled ourselves at the table (canard, beef, and chicken) were served with gratin Dauphinois and green salad. With two carafes of red wine it was quite a relaxing lunch as we were practically the only customers at the restaurant.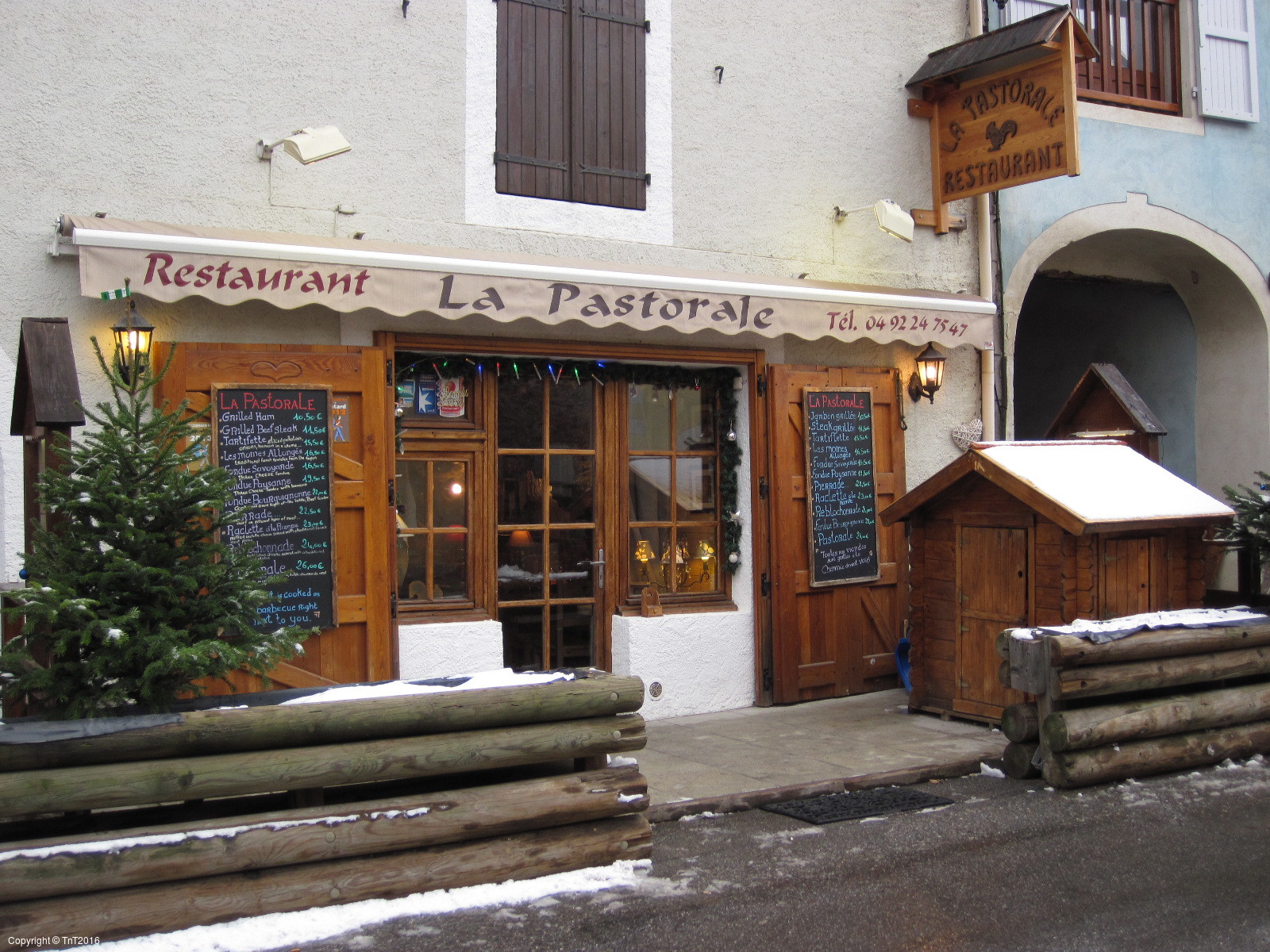 We saw several beautiful sundials on our walks and runs, especially in La Salle, which had a square dedicated to them (Place du Cadran Solaire). The first four sundials are from there. The one in the middle of the second row is in Le Villard Laté (the starting point of the next day's hike), next to it on the right is in Le Serre Barbin (the starting point of our last hike on Friday), and the last one in Les Guibertes, seen on the Saturday morning run.
Wednesday: via le Villard Laté to les Tronchets
We had a stupendous idea of going all the way to Col de Granon, but soon found ourselves on a very steep and snowy forest trail. We struggled to find our way out of the forest, since the trail was unmarked and barely noticeable at places. Once we reached a road, we took the shortest walkable route back
A charming blue chapel in Villard Laté.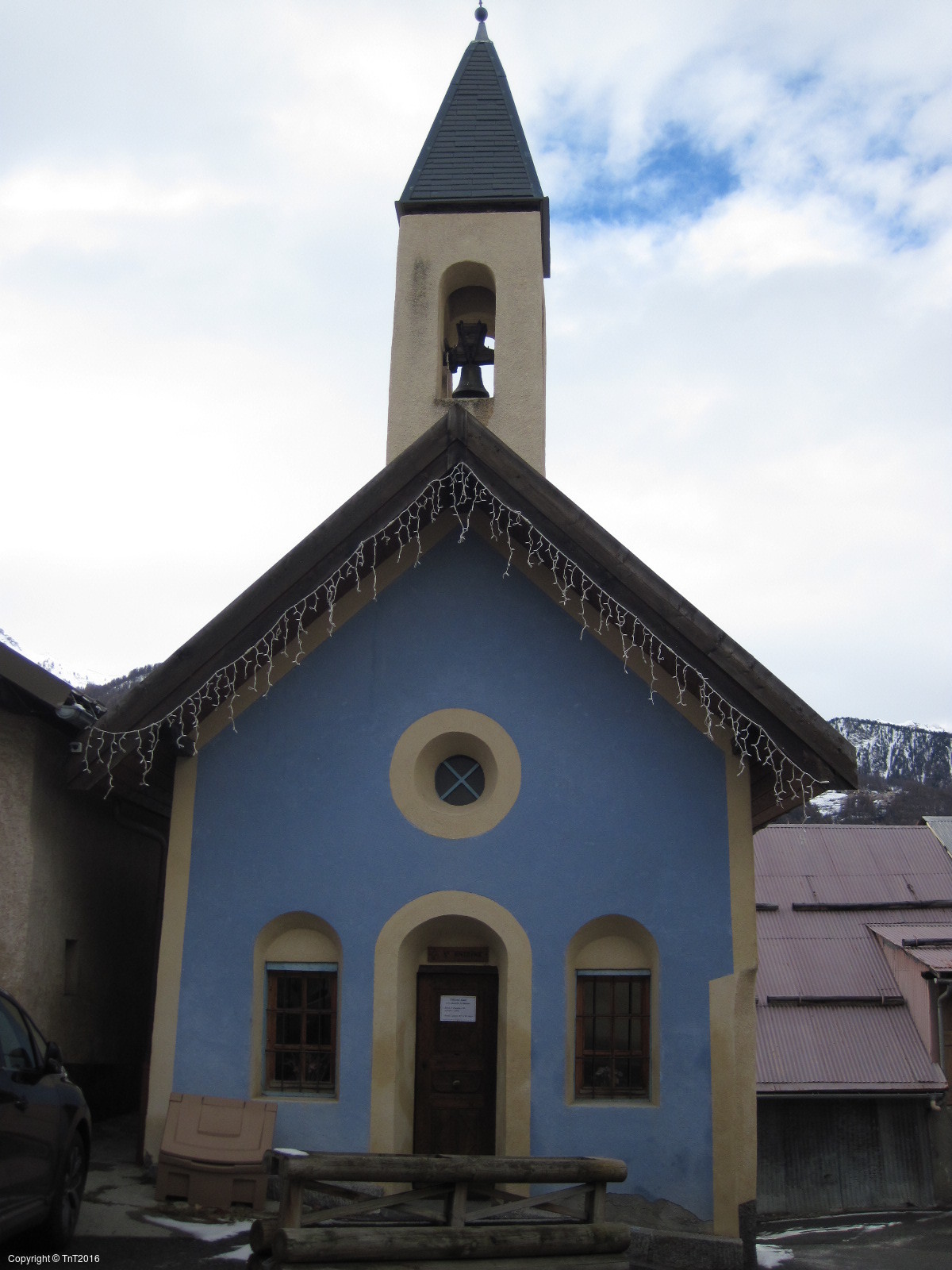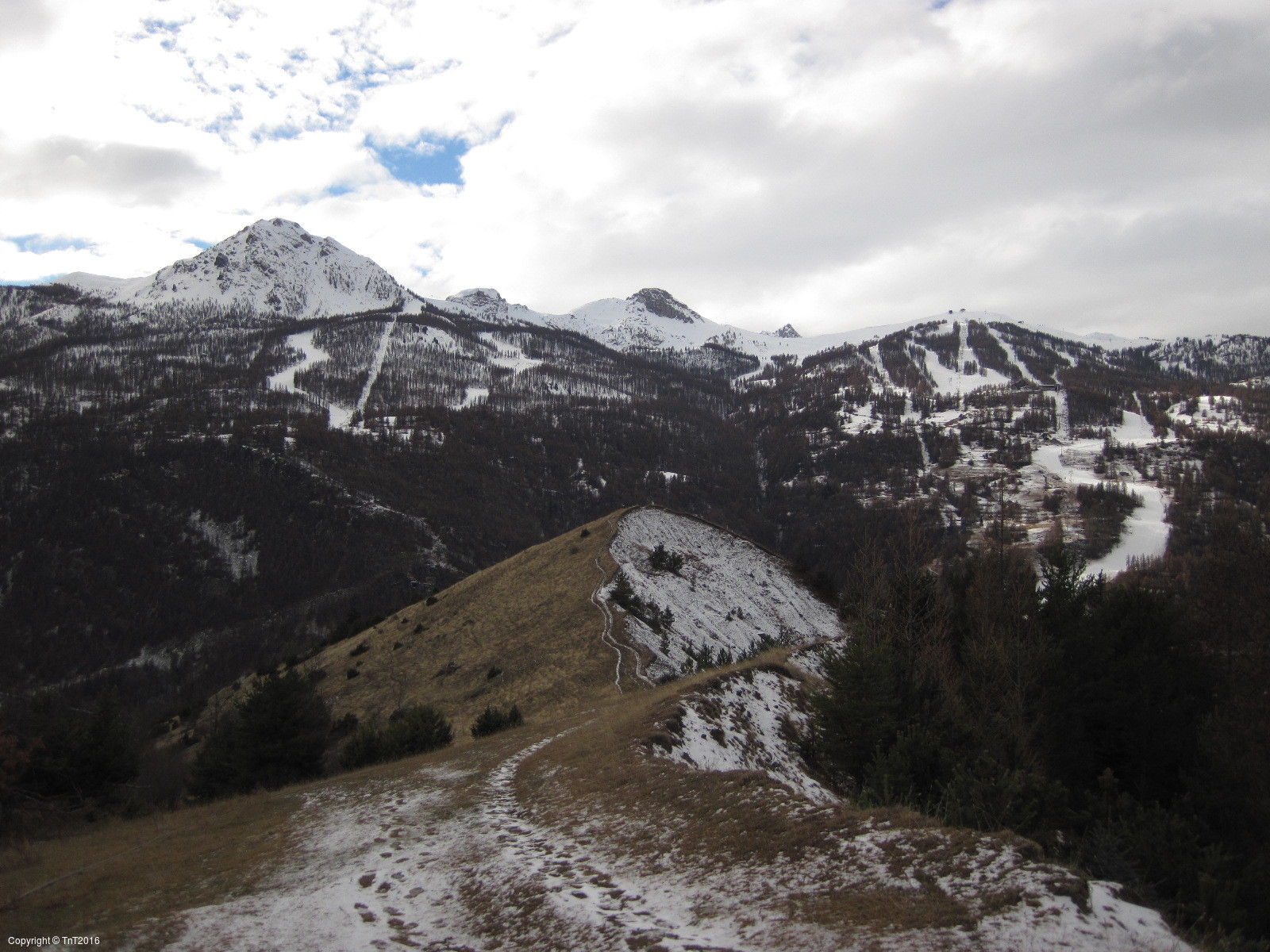 The weather was also supposed to be much nicer (the reason we planned a longer hike), but it turned out quite grim.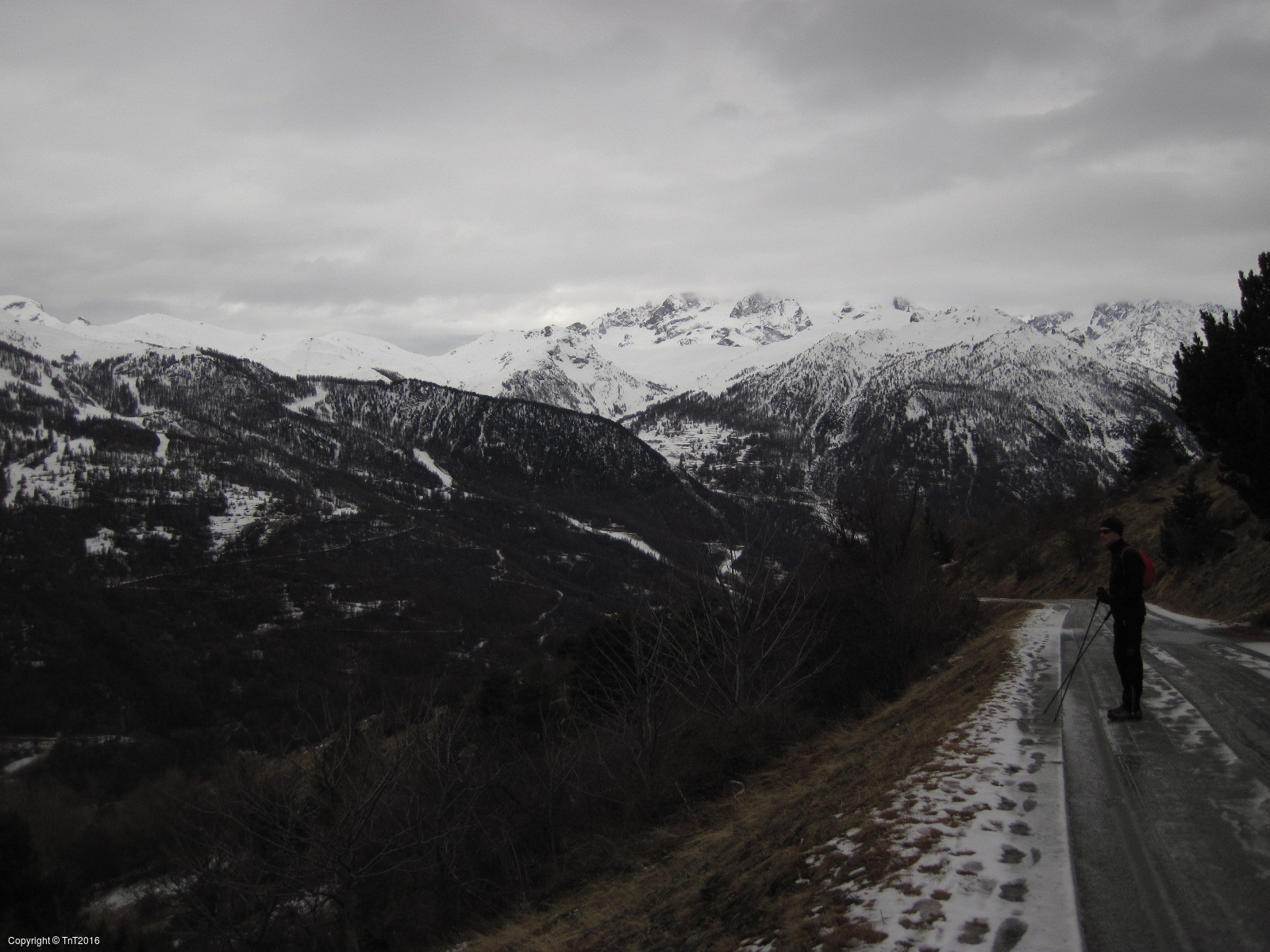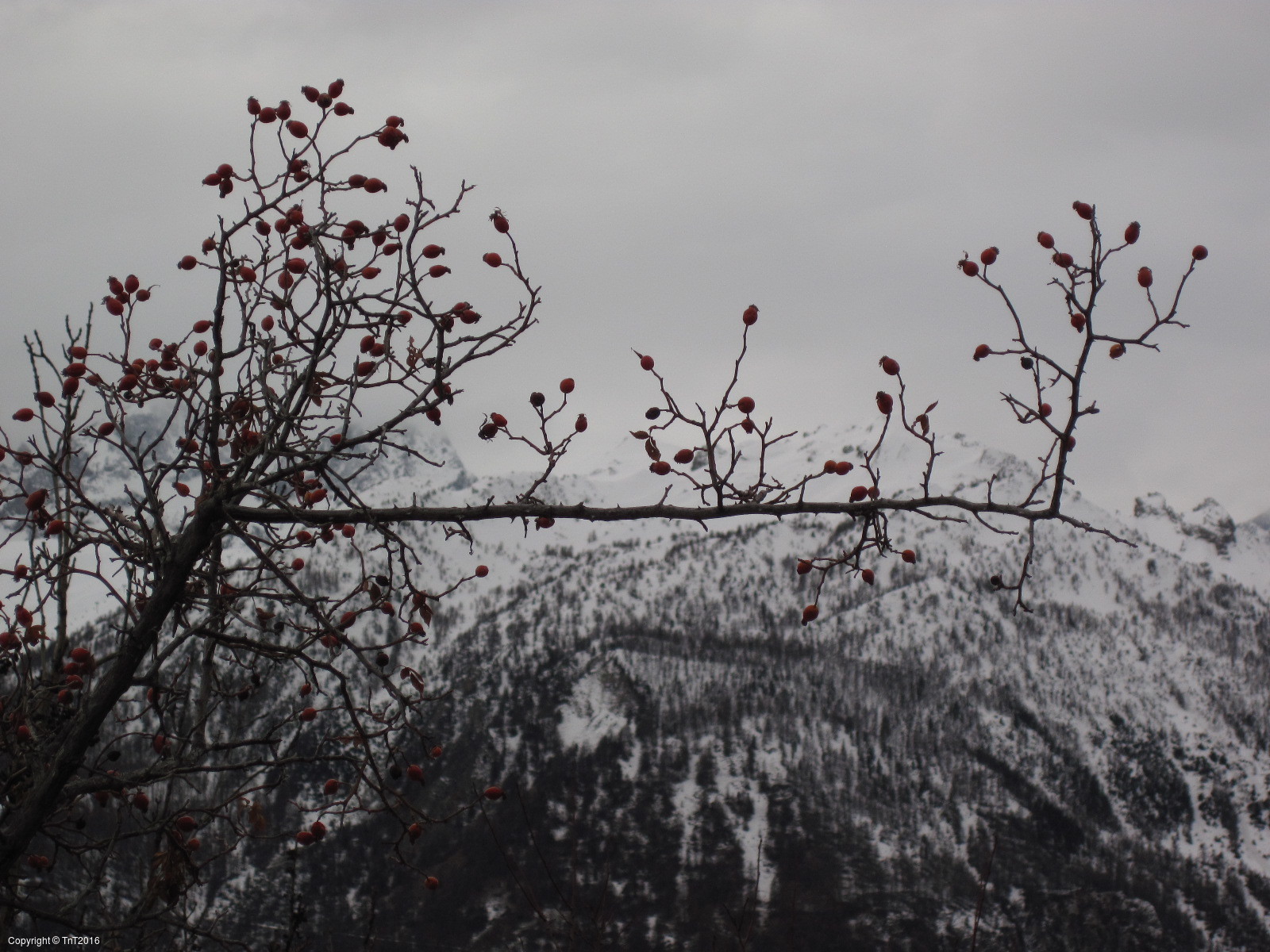 Well, we ended up walking more than 13 kilometers anyway.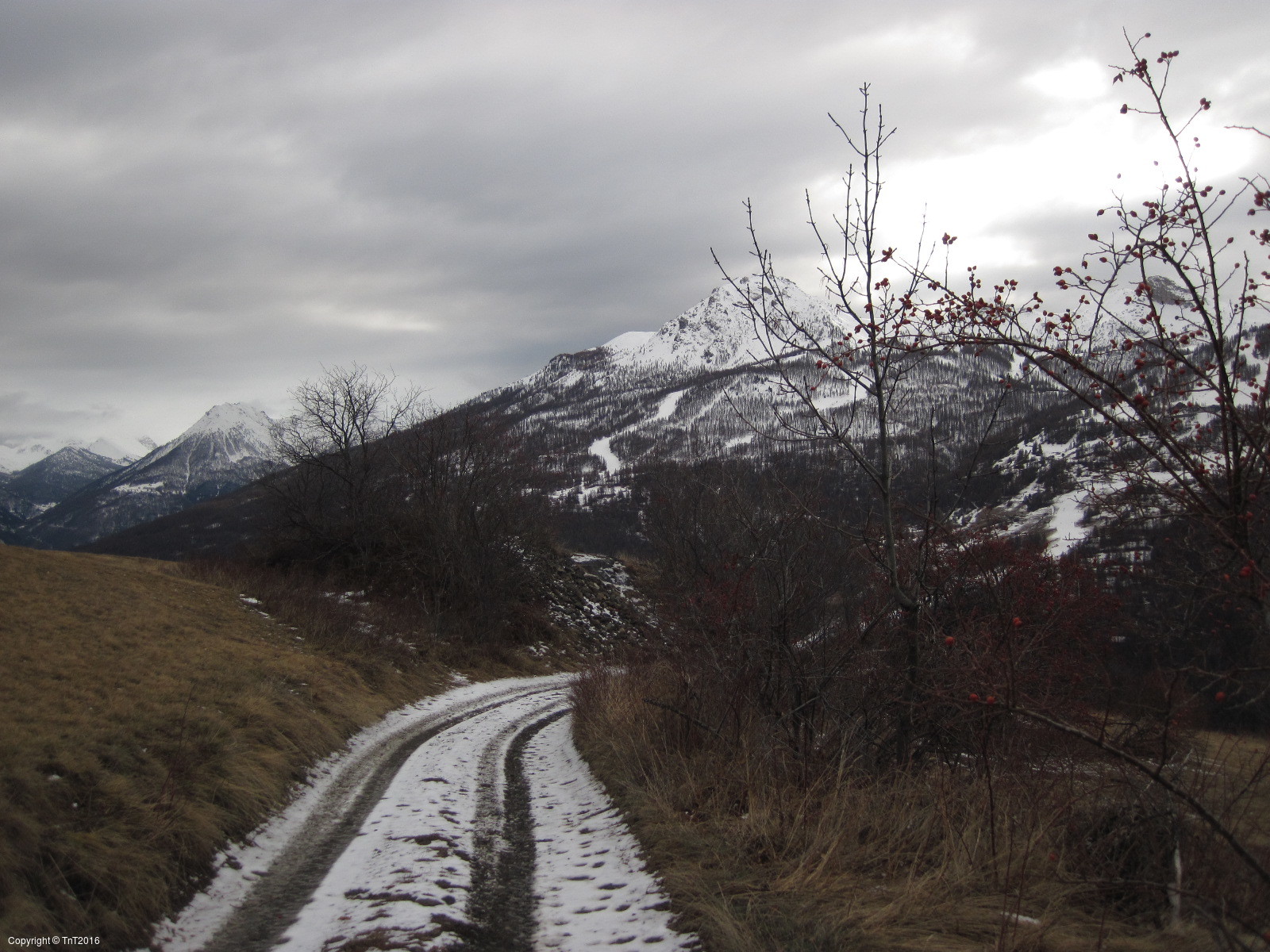 Thursday: to (almost) Col de Granon to Bergerie St. Joseph
The good weather was back, and so was another attempt to reach Col de Granon (2404m). We took the same shortcut up that we used yesterday when coming back.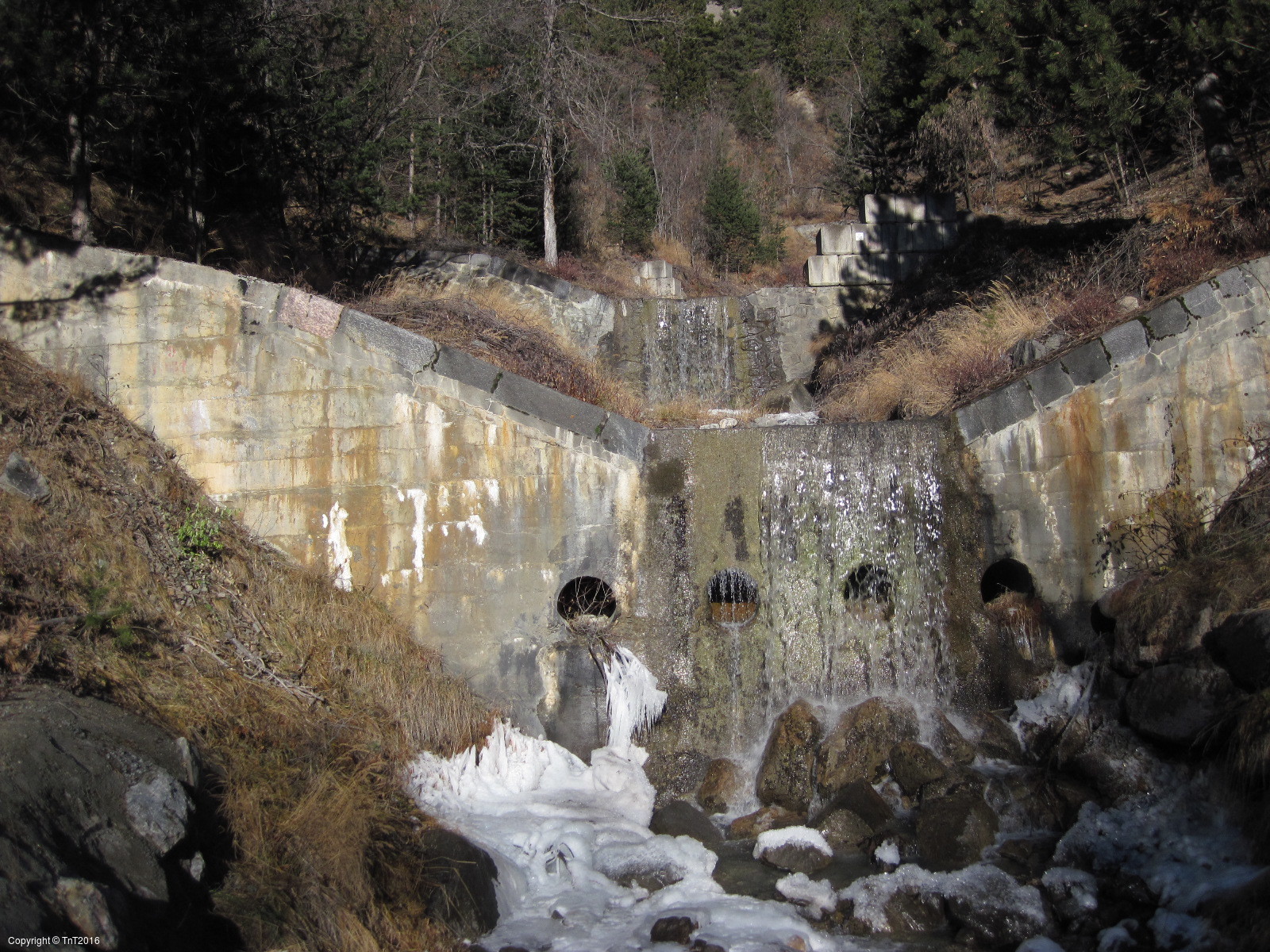 Everything looked so different in the sunshine.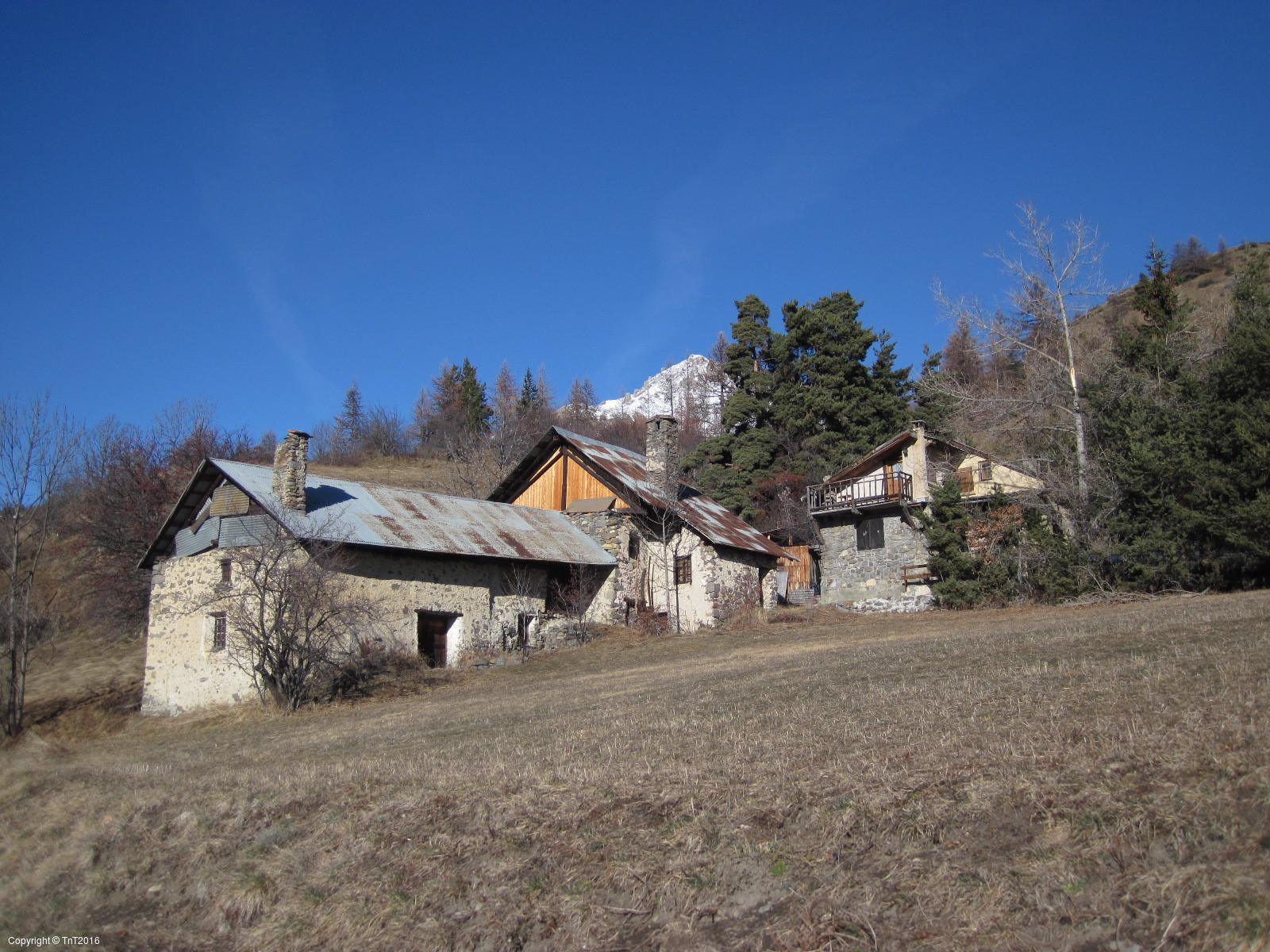 Another charming little chapel in Les Tronchets.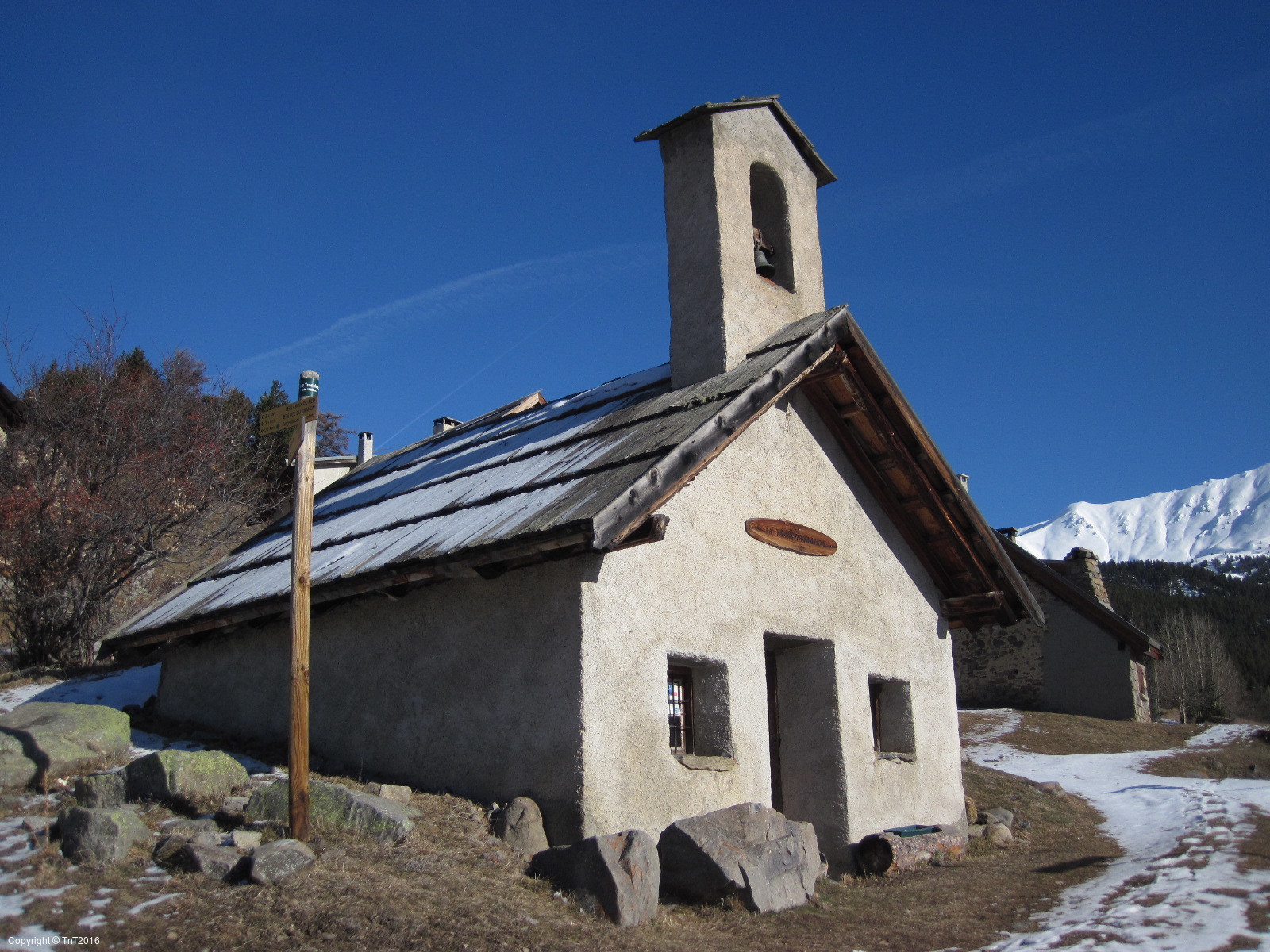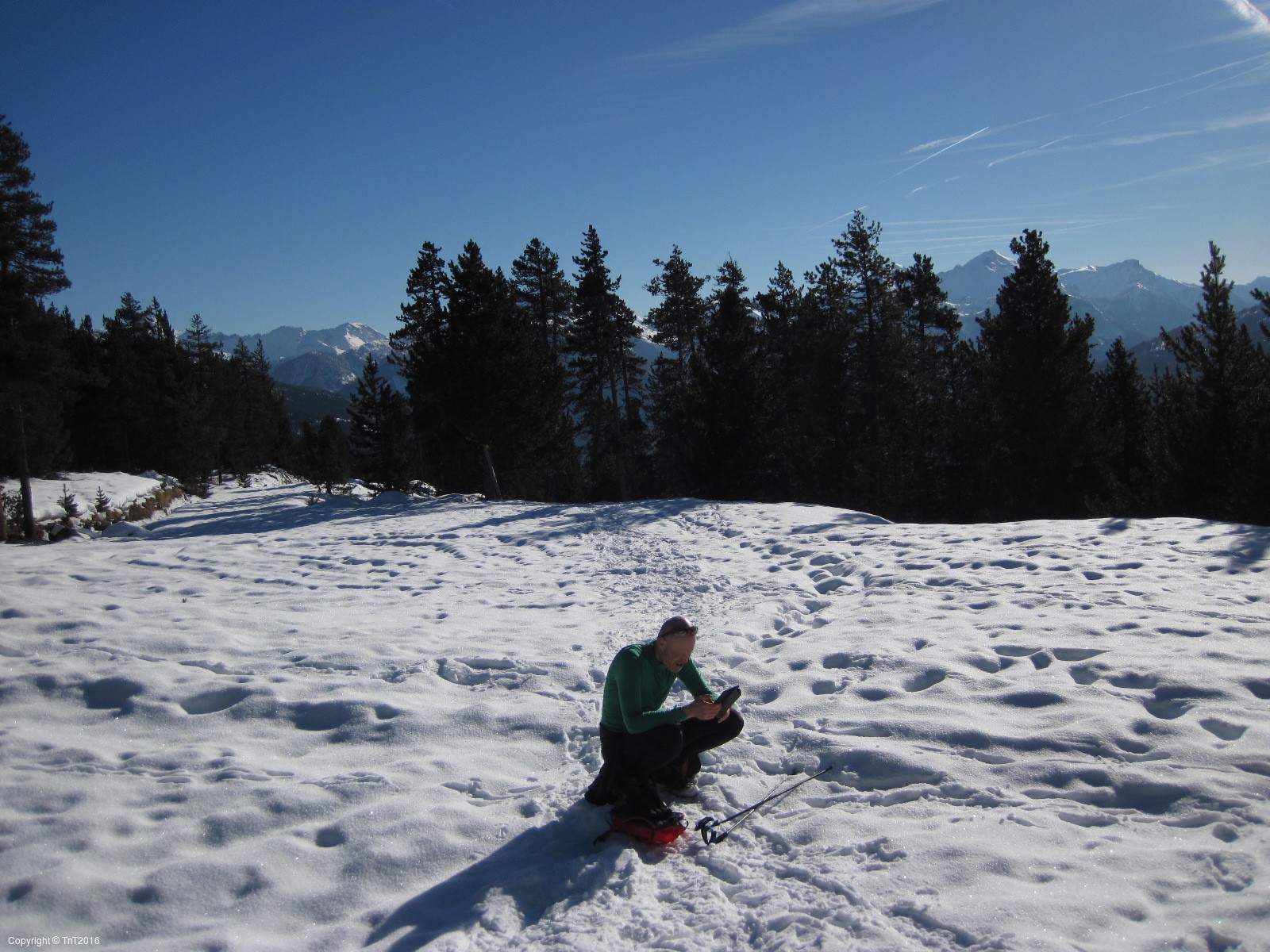 Again, we found ourselves in deep, but not too fluffy snow, but it did not discourage us since the weather was so gorgeous.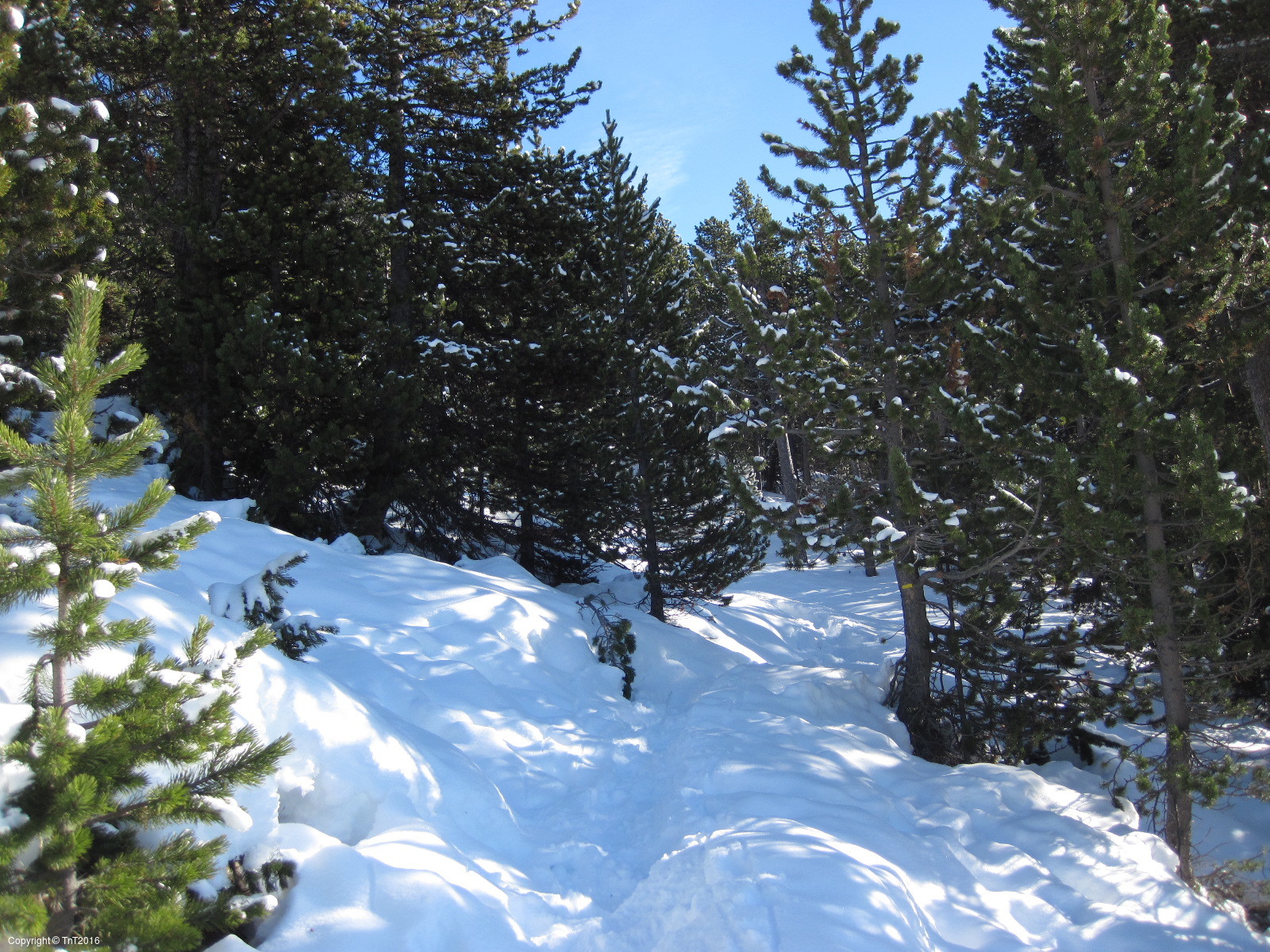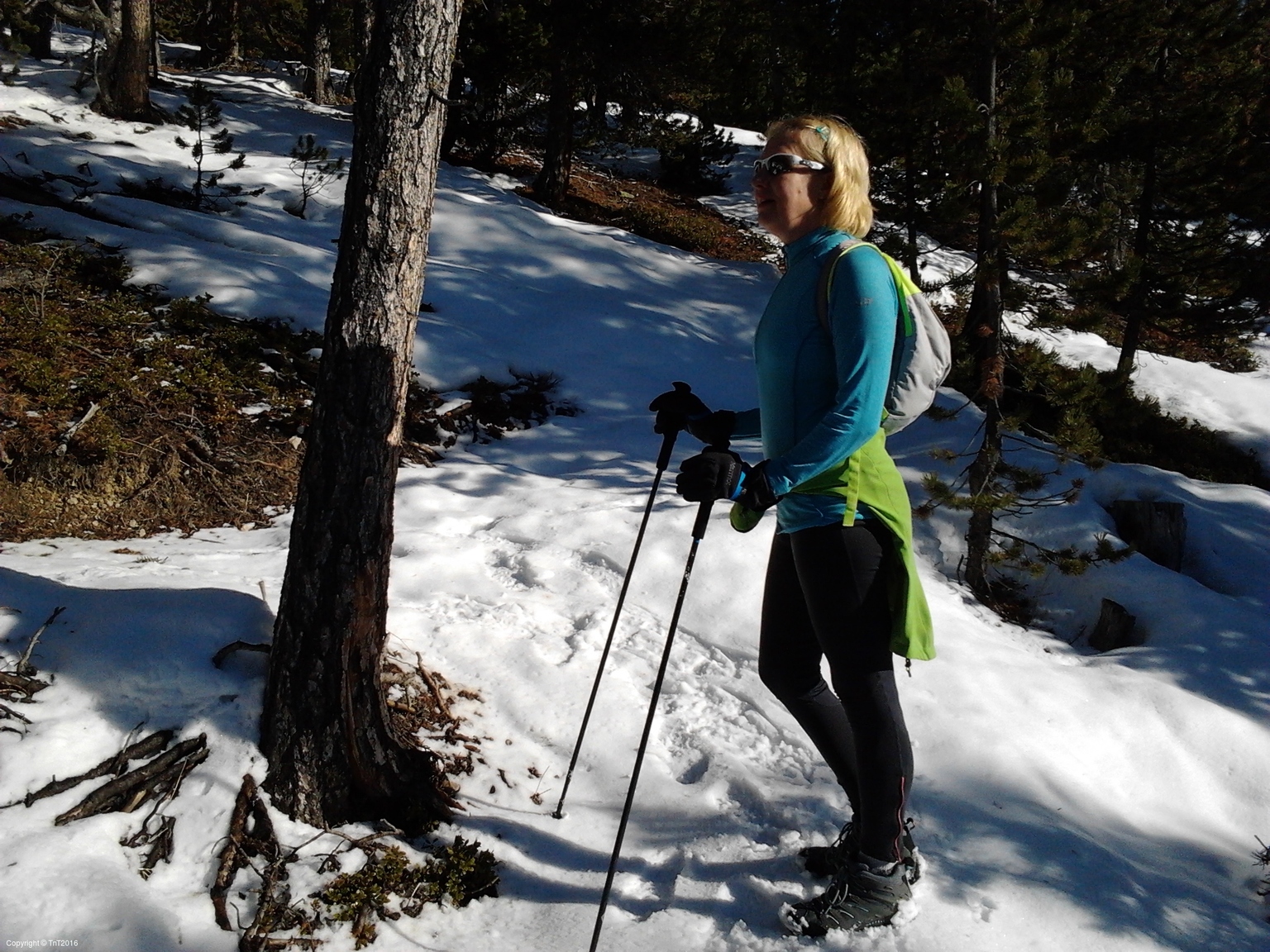 s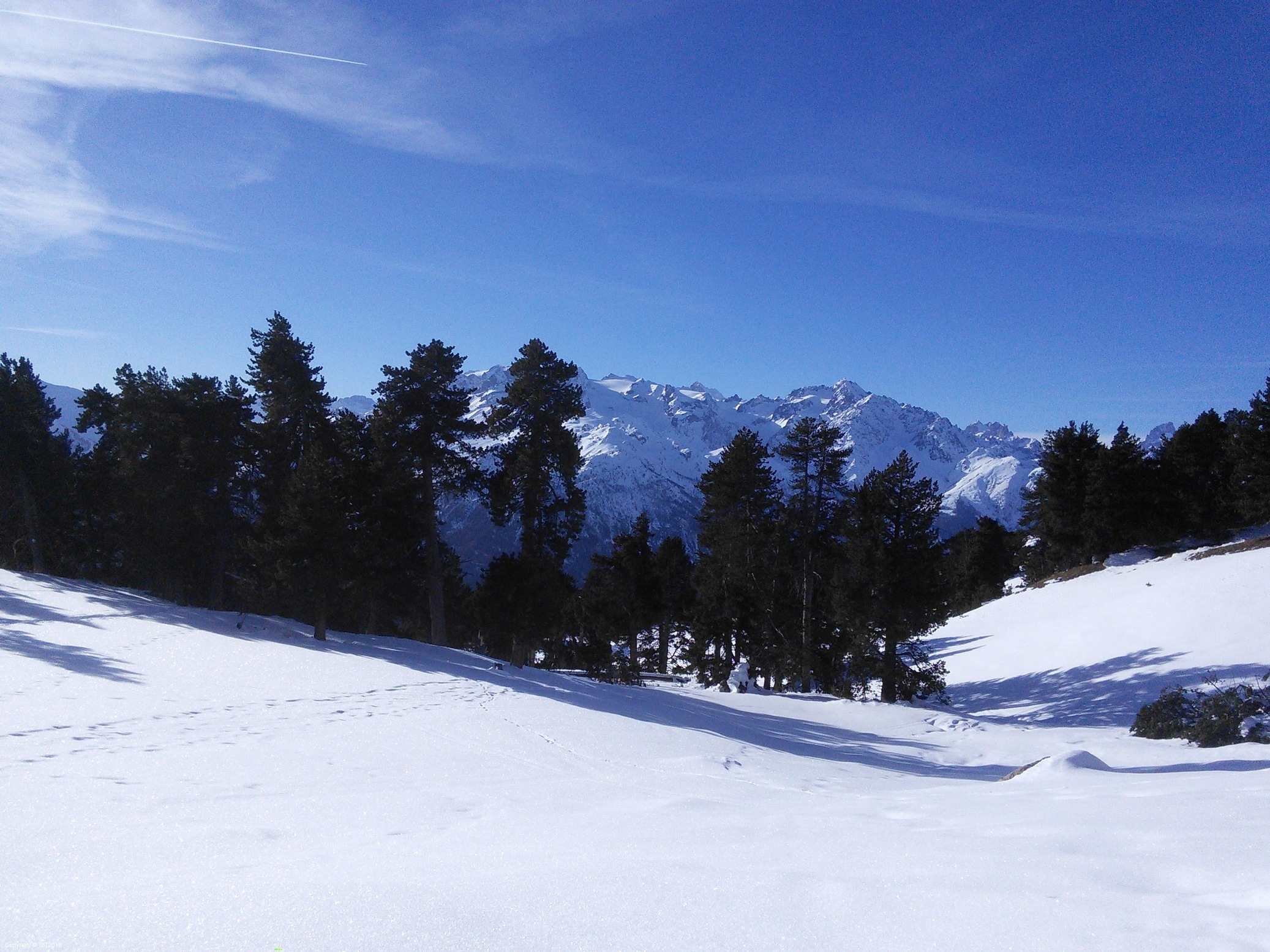 When we reached the road at Les Ruines (2295m), to be honest, we did not continue as far as the Col de Granon, but turned back towards Bergerie St. Joseph — we still had about seven kilometers left to get back home, and most of it in the snow that was quite arduous to walk on.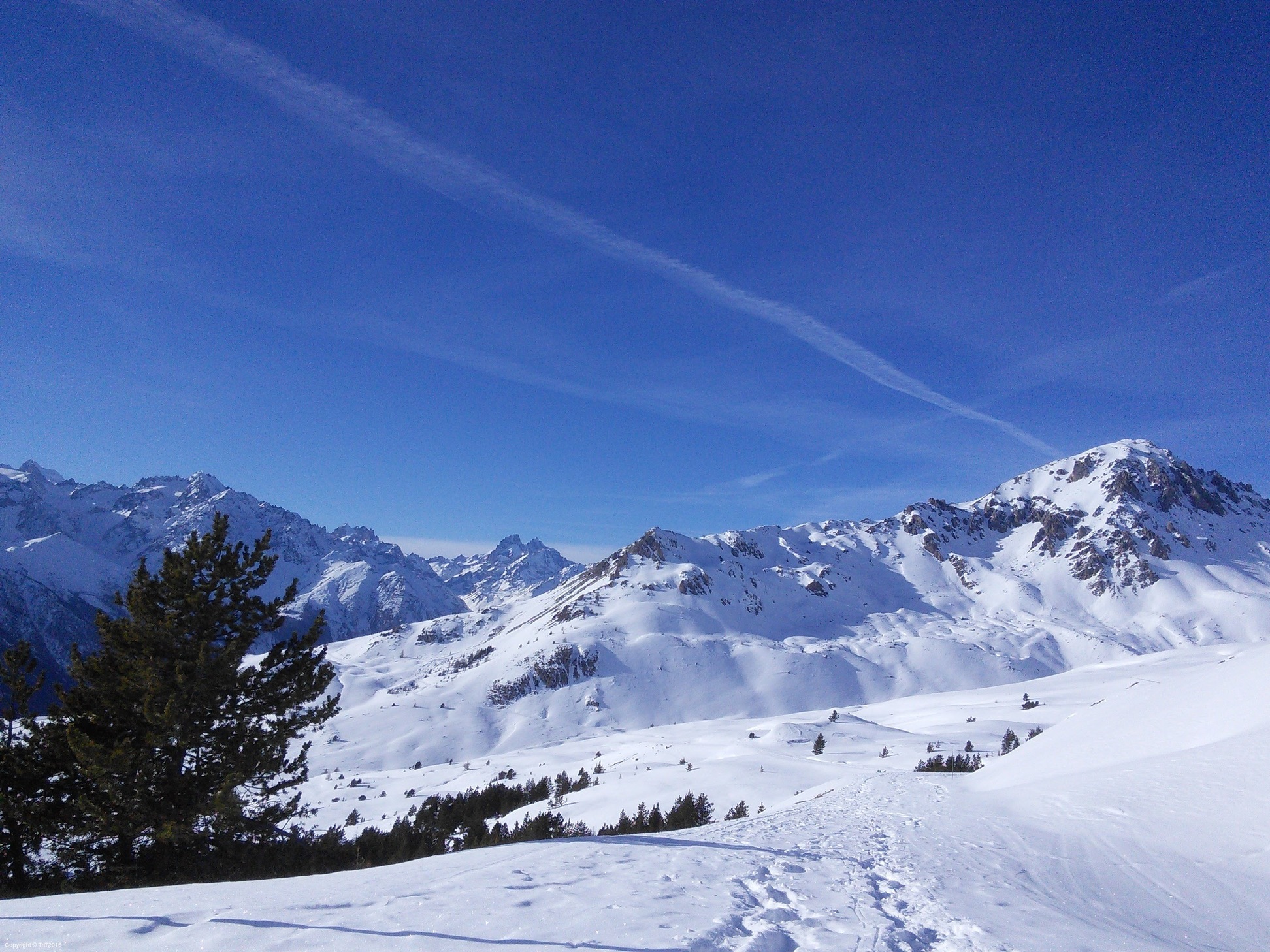 The sun was going down fast, and left nice shadows in the snow.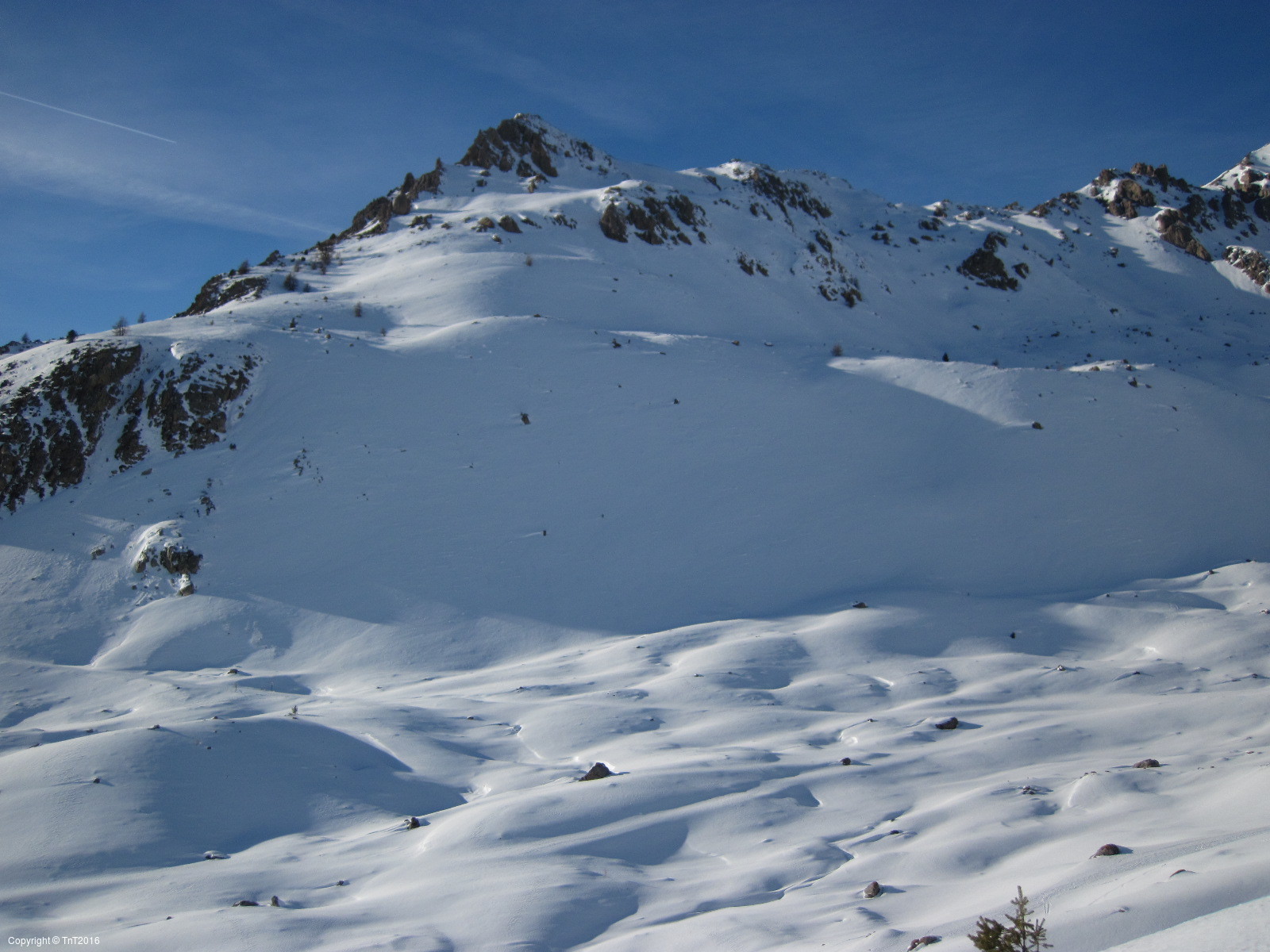 Finally on the dry land!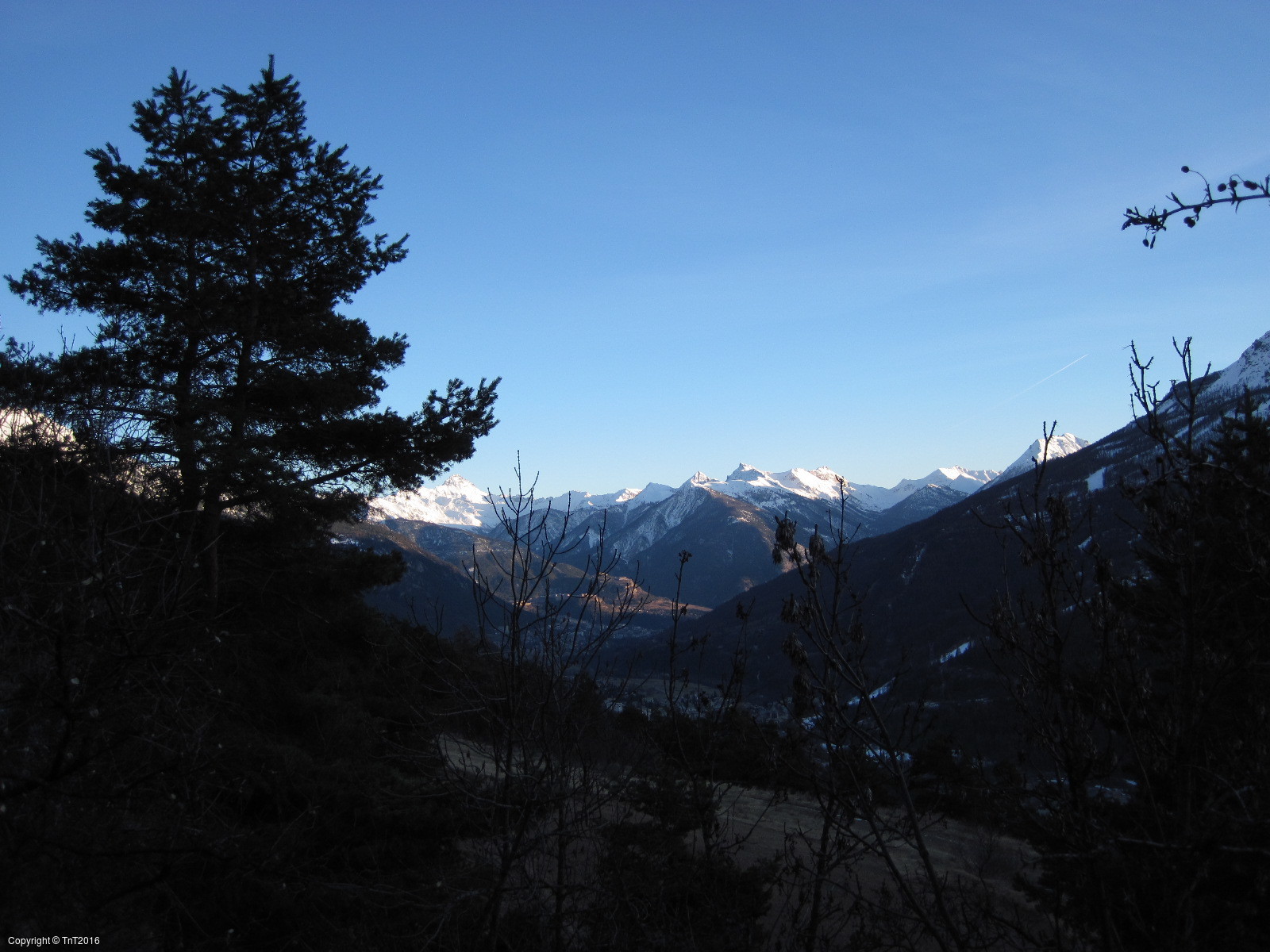 Friday: to le Puy Freyssinet
Our last whole day in Serre Chevalier started and ended with beautiful blue skies. We hiked from the village le Serre Barbin to the cabin at le Puy Freyssinet (1980m), and down to the village la Freyssinet.
Clear waters of the river Guisane.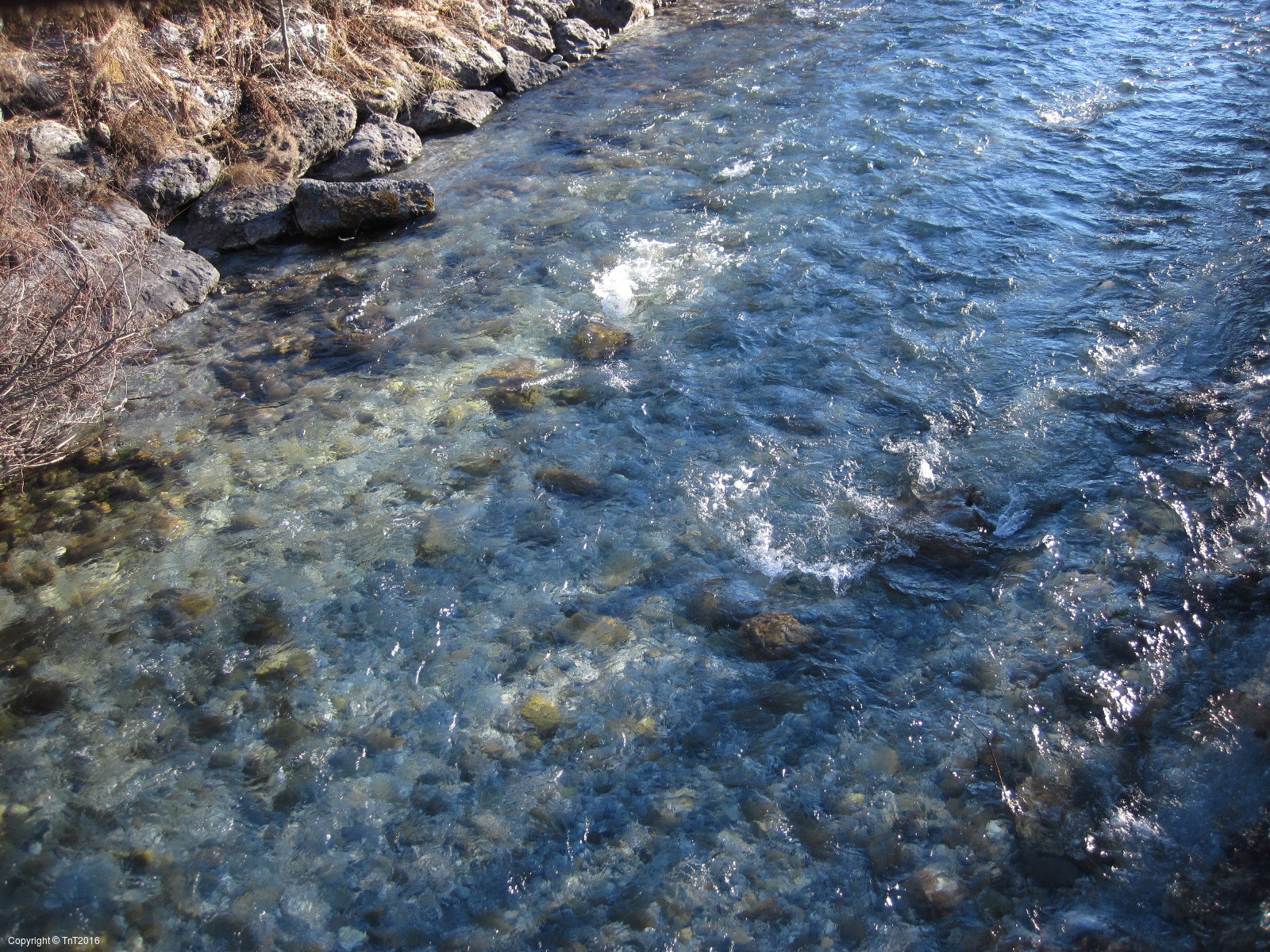 The direction of the Friday hike was North-East from Villeneuve, whereas most of the previous ones had been to South-East.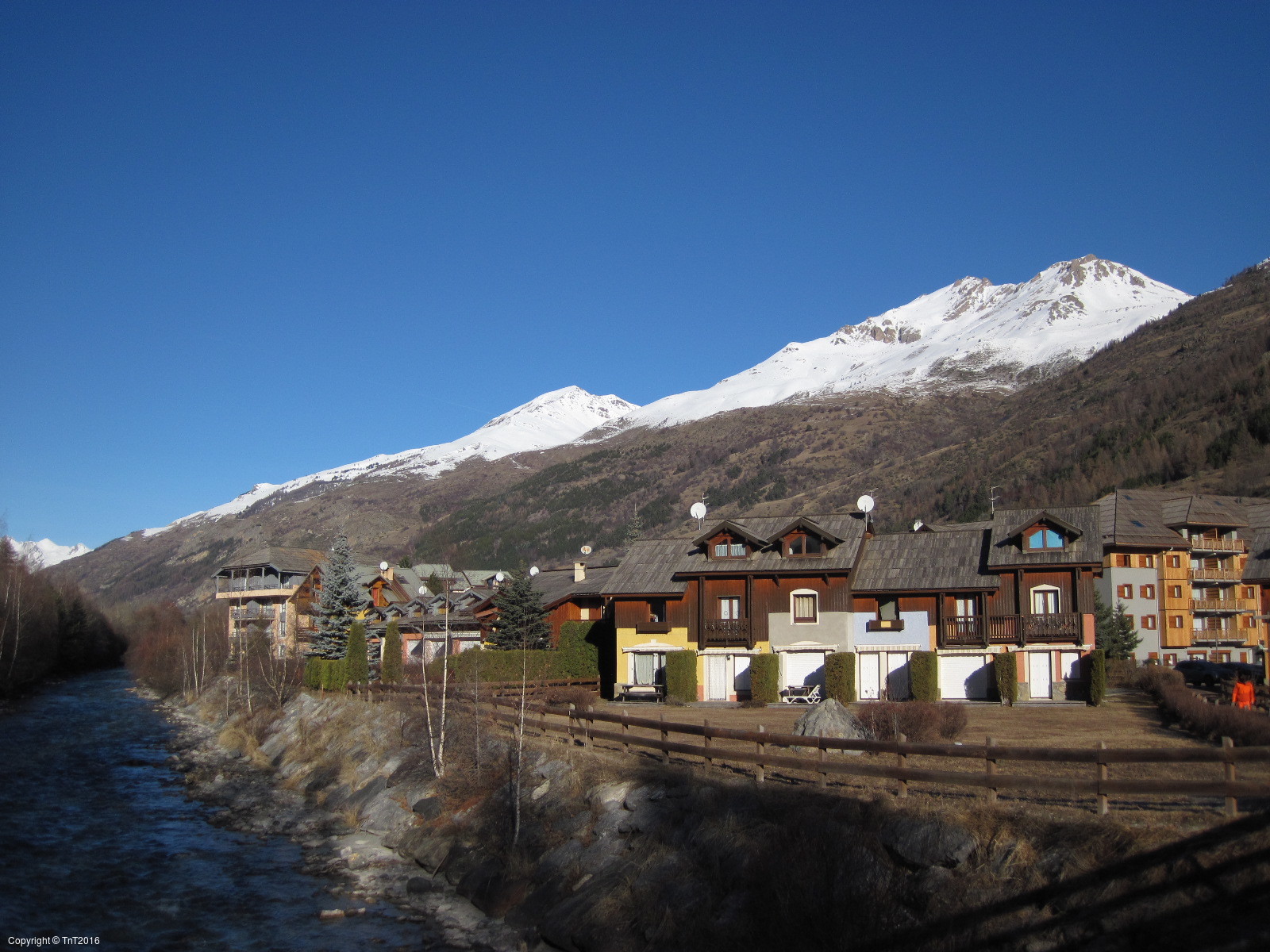 The villages la Freyssinet and les Guibertes.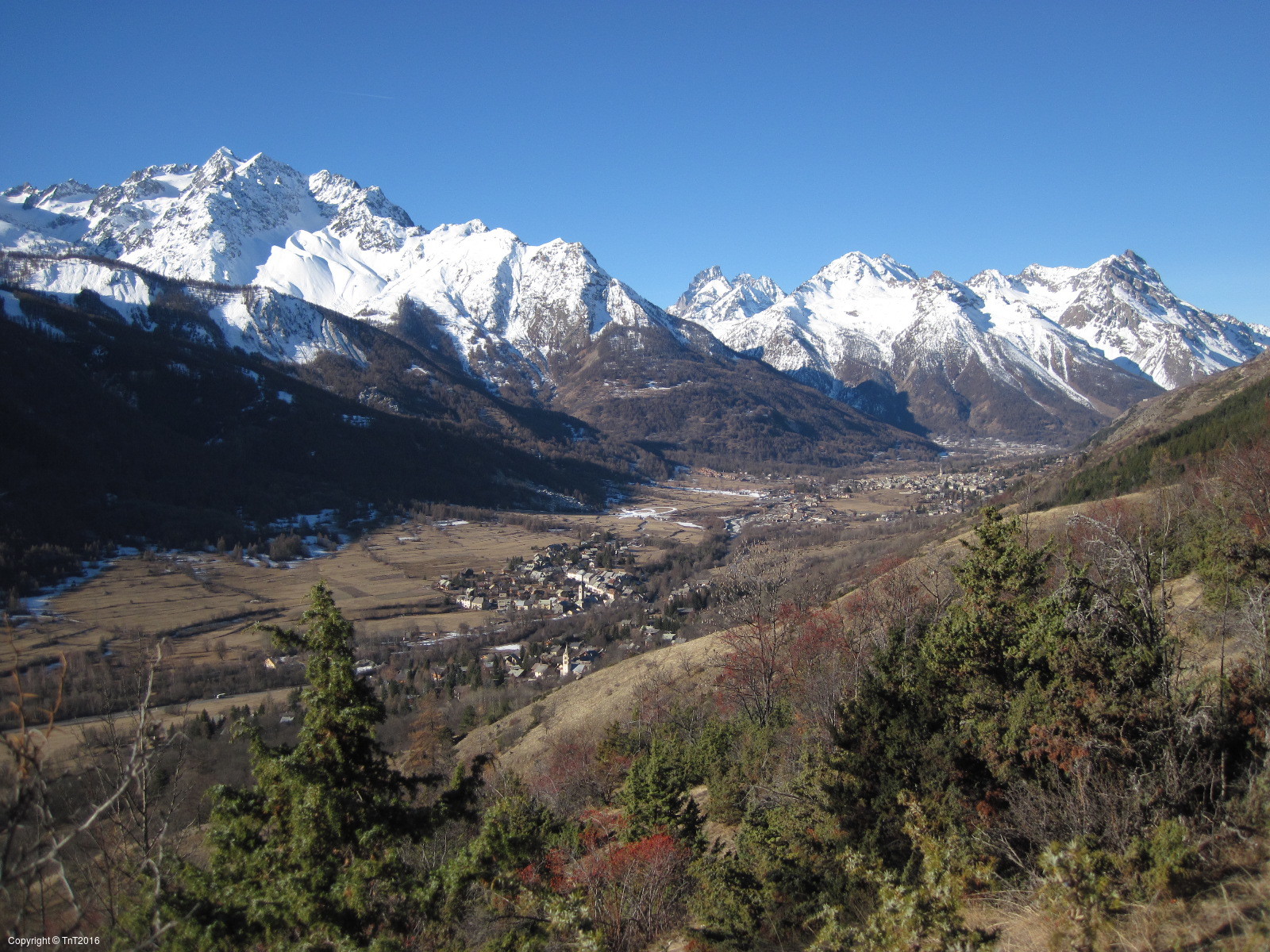 The trail ascended quite fast. Just a few minutes ago we were down there (see the trail below).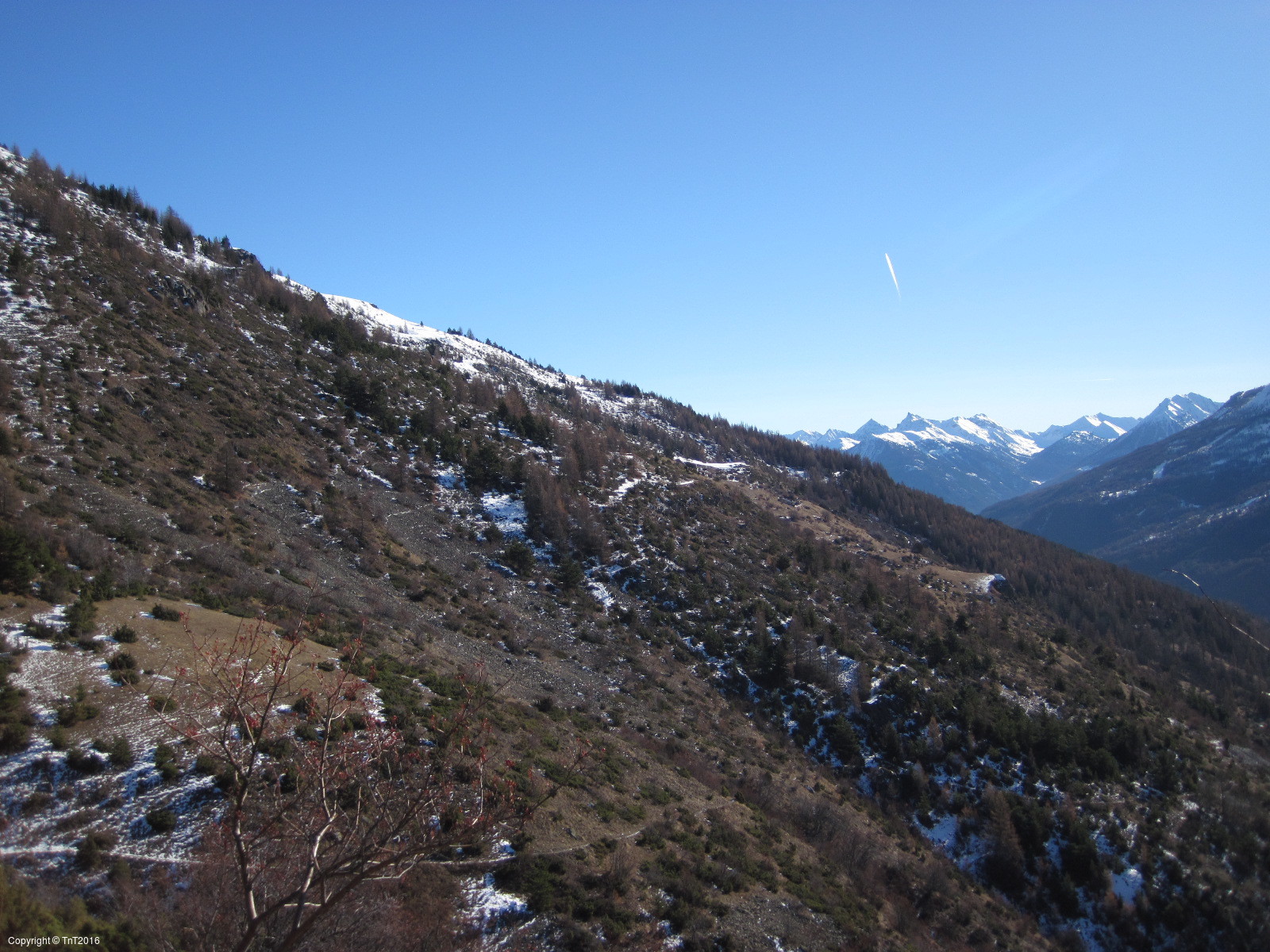 And sooner or later we found ourselves in the snow again.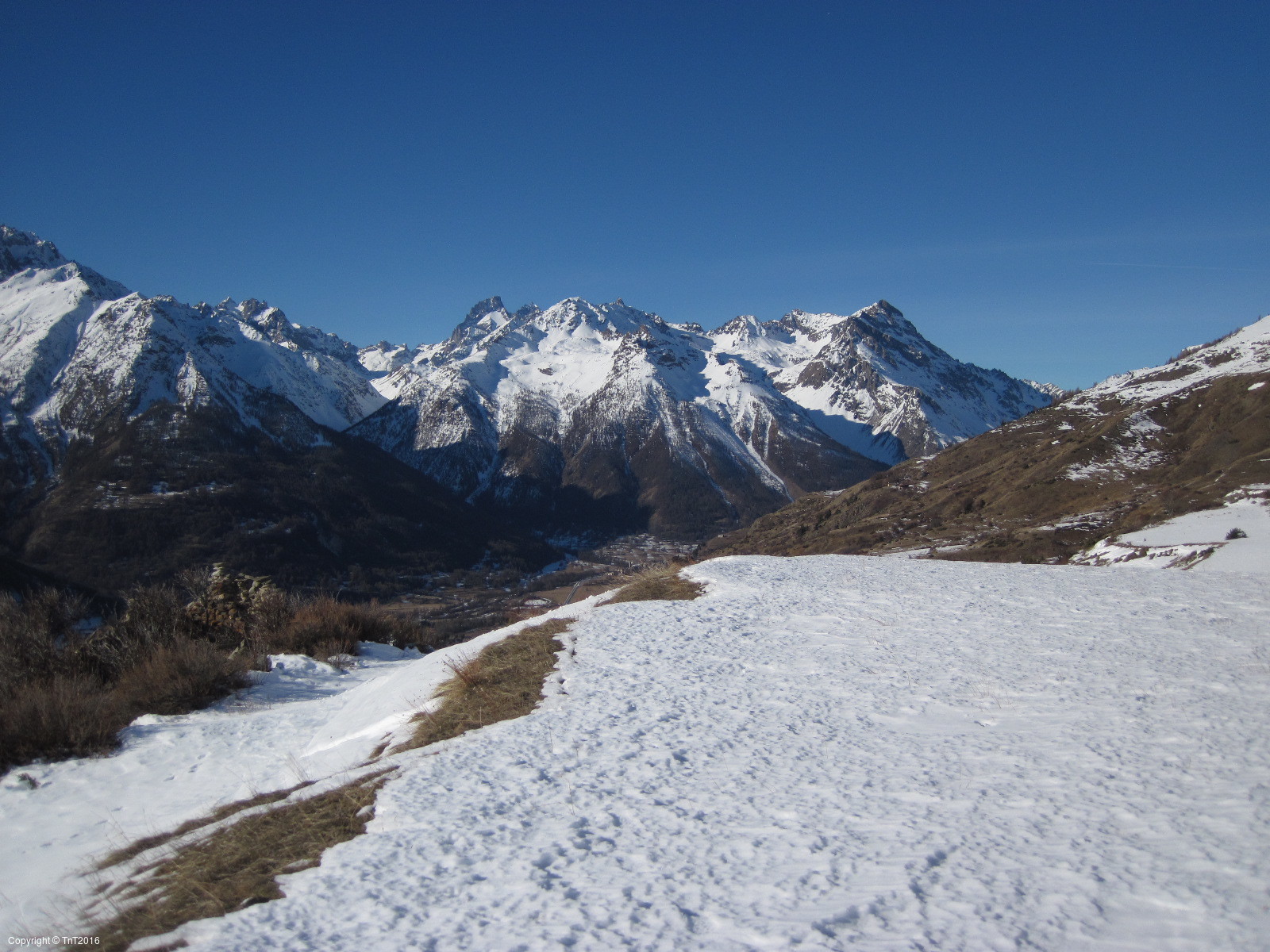 We took a short break at the cabin before heading down.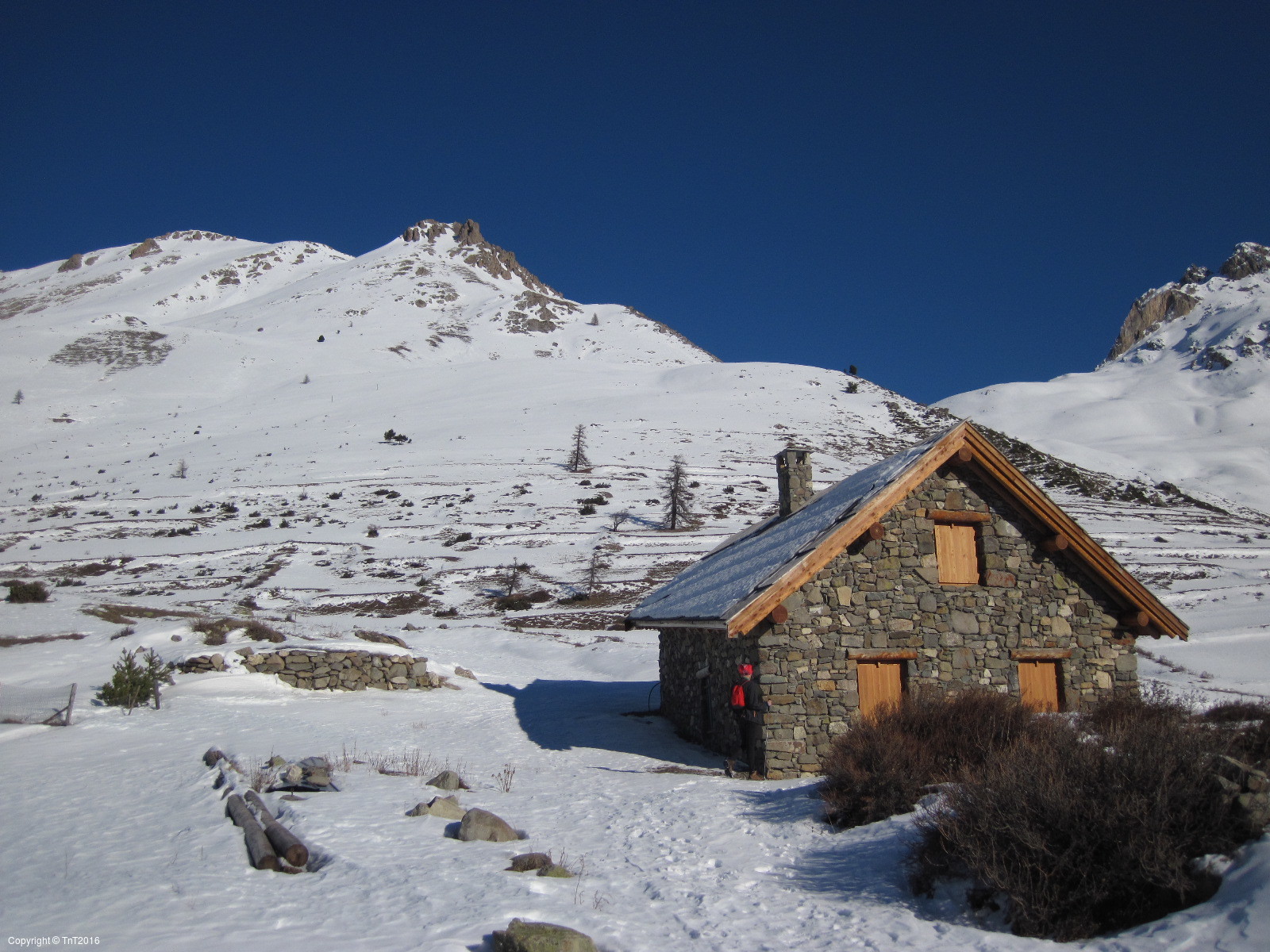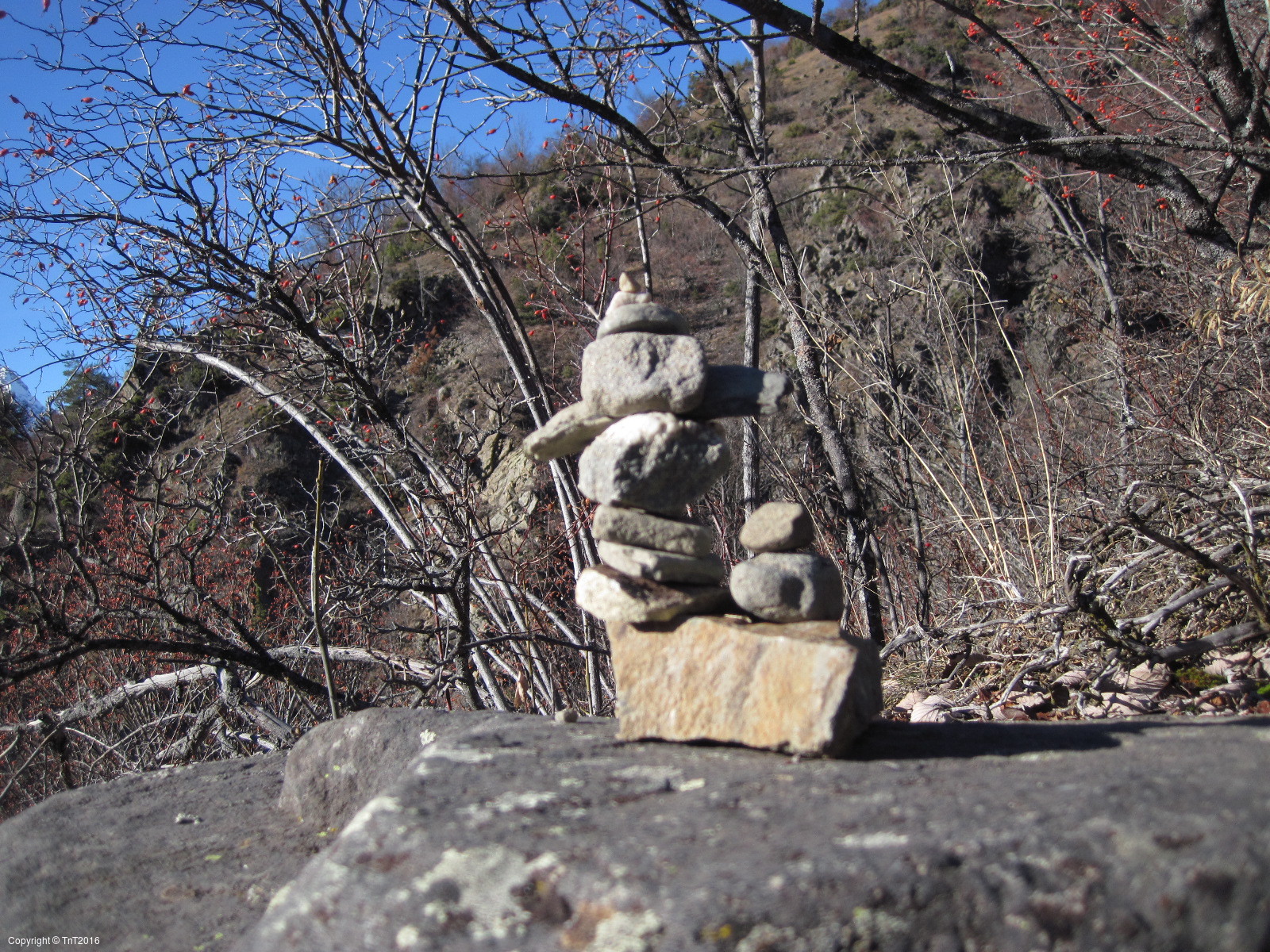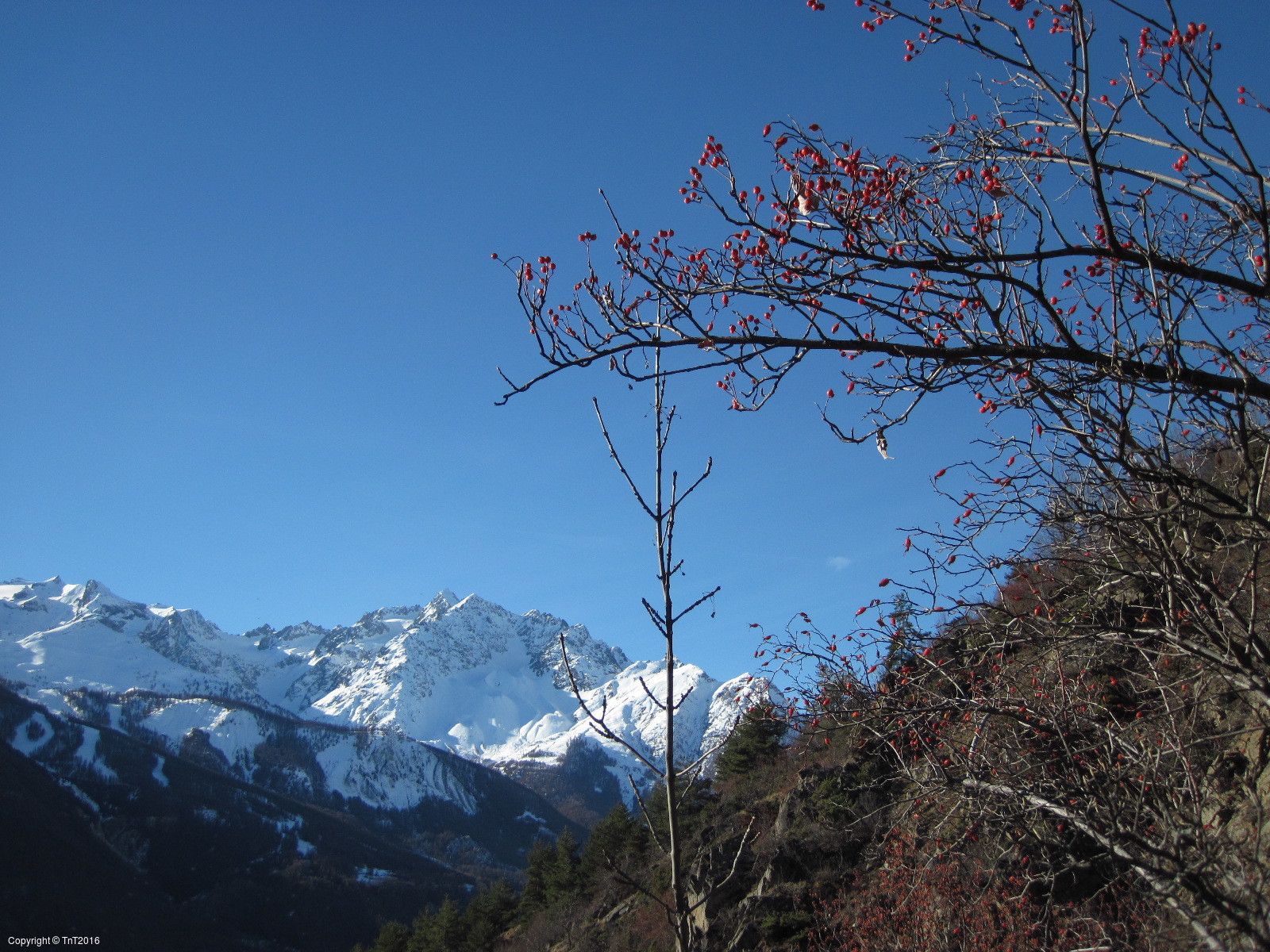 The End of the first week of Winter vacation 2016.