Tulip Trestle, October 2005
We have heard that in the Greene County there is a hidden treasure; America's longest Railroad Viaduct, third largest in the world. Local people don't know it exists. It shouldn't be more than 25-mile ride away from Bloomington. Early Sunday morning, on October 16th, we start our journey.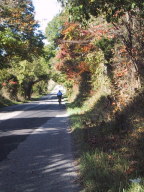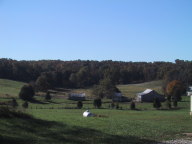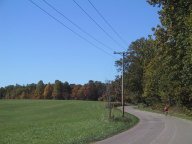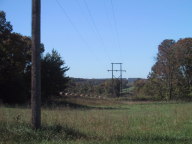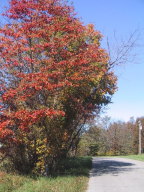 Through the forest, pass the meadows, and the powerlines, in the wild ...
There are many wonders on our way.



- What is this, asks the blonde.
Is this how they grow tennis balls?
And indeed, after riding a couple of hours we reach the place.
At first there is just the corn field, but then ..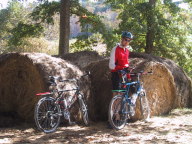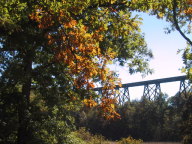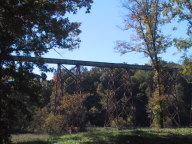 We leave our horses by the hay and get closer.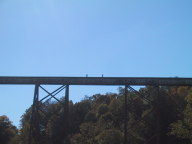 Not quite that close, or ...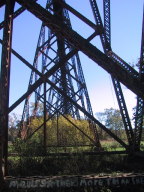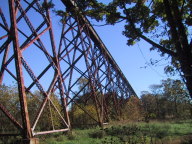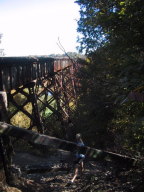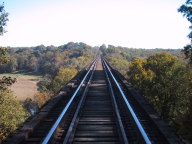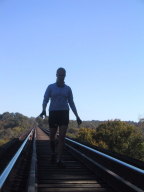 why not? (BTW, the two guys came down descending the towers. Scary isn't it?
Deep in the Indiana farmland, we stop at a very local store for hot dogs. Time has passed the old graveyard.
Surrounded by beautiful colors, we ride bumpy gravel roads and are chased by dogs. And of course, there are lots of hills.
It is not that steep, you see.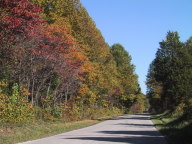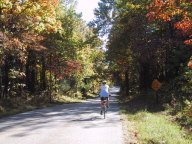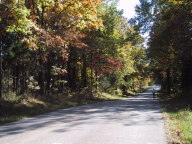 Admittingly, it is much more fun downhill!