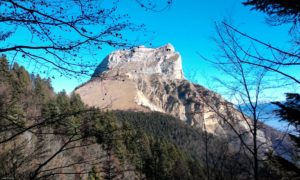 We still had Dent-de-Crolles (2062m), the second highest peak on the Chartreuse range, to summit. It is just twenty meters shy of the highest peak Chamechaude (2082m), which we have climbed four times. Both climbs start at the altitude of about 1400 meters, but this was a bit trickier, both the ascent and the descent.
Unlike the other peaks on Vercors and Chartreuse ranges that we have climbed before (Moucherotte, Chamechaude, Pinea, Scia, Grande Sure, etc.) that we could just walk up, the access to Dent-de-Crolles required us to use cables to haul ourselves up the cliffs. However, there were trickier sections without cables where we had to rely on gripping to the rocks to pull ourselves up. We ascended via Trou-du-Glaz and descended via Pas-de-l'Oeille. While the former included several quite narrow passages and sections with cables, the latter was mostly walkable, albeit quite steep with loose gravel, with the exception of one section where we needed the cable to come down.
Tei first:
And Tomi followed:
Approaching the summit from the north we also met some frost and icy puddles on the trail.
Once we  were finished with the tricky, rocky section we were on the plateau and the rest of the walk to the summit was very easy. From the summit we had a clear view to Mont Blanc and the neighboring peaks on Chartreuse,  and less clear view to Grenoble and Gresivaudan valley. We also saw many bouquetins  (alpine ibex) on the plateau in a distance.
As we headed down there was a constant stream of people coming up, the youngest ones still using a pacifier — neither route up was recommended to be done with kids, but the little ones seemed perfectly happy with the little climb. Besides families and groups of teenagers, the mountain was also popular among paragliders. So, there were a lot of people carrying their equipment up on that steep trail, which I think is much easier to ascend than descend.
View to Mont Blanc on our way to the summit.