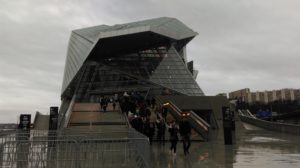 This past weekend we visited Lyon to fulfill our civic duty to vote on the first round of our presidential elections. We certainly would like it better if  our elections were at some other time of the year than January; the weather was miserable, cold, and it rained all the time. Therefore, we planned no outdoor activities but instead, and finally, a visit to the Musée des Confluences. And that was a good decision: the museum was educational, entertaining, and not too overwhelming!
Again we stayed at an Airbnb apartment, but this time in St. Just district on Fourvière hill  instead of the old town like before. We arrived quite late on Friday evening and did not bother to walk farther than a block away to the restaurant La Marmaille for dinner, and that was a good choice. Among other things, we had cabbage soup for  a starter and seafood risotto for the main (pictured below). Everything was very delicious, but a bit pricey with the wine.
On Saturday morning we went for a hill run before the heavy rain started. We ran around the Fourvière hill, first to the Roman theater ruins and then to the Basilica of Notre Dame.
The rest of the day was dedicated to the museum. We spent more than four hours in there; we arrived before noon, when there were no lines and practically no crowd. We had bought the tickets online beforehand so only thing we had to go through was the security check.  When we left around 4pm. there were huge lines  both to the security check  and the ticket counters, most people standing outside in the rain.
After the museum day we returned to our St. Just neighborhood and chose Sounamis, a Japanese/Thai restaurant  for our dinner destination. We were a bit apprehensive by the looks but again it was not a bad choice after all. We went for the items of their Japanese menu, and they were all good. Not as good as you'll get in a regular Japanese restaurant in a mall  in Singapore, but quite good in French standards.
The second round in the presidential elections, if it ever is going to happen, will be in two weeks, but we are apprehensive whether to vote. It is a bit too expensive for us to travel a hundred or two kilometers away to vote, especially  when the outcome is pretty sure already and not to our candidates' favor!