We took a couple of days off this week to savor the last few sunny and warm Fall days, and planned a couple of easy walks on those days.  Earlier this week the local weather forecast promised a significant degradation in conditions this coming weekend, but it has all changed by now that I am writing this post.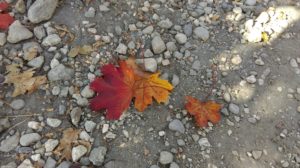 Day 1: Uriage-les-Bains –  Brié-Bas – Montchaboud – Échirolles (18.6km)
On Tuesday we took an early morning bus to Uriage-les-Bains in Belledonne, and climbed to the ridge that runs from St.Martin-d'Uriage to Brié-Bas. We tried to maximize the distance spent in the sun, since it was still pretty chilly in the morning. Later when the air had warmed we were happy to find some shade when we climbed from Brié-Bas to Montchaboud. From there we descended to Château de Bon Repos, and continued to Échirolles where we took a bus and then tram home. The whole walk took us more than five hours.
Day 2: Cirque de Saint-Même (3.39km)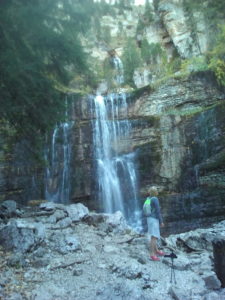 Our second walk was quite different. It was only a little more than three kilometers long and lasted only an hour and a half, but it took us to the awesome waterfall on the border of Isère and Savoie departments on Chartreuse range. The climb on the Sentier des Cascades to the Grande Cascade was a bit rocky and steep, but the descent quite easy. The trail actually looped further up above the Grande Cascade to Pas de la Mort, but we turned back from the waterfall — that loop was marked as difficult and not recommended in wet conditions (it is always somewhat wet in there, since the sun does not reach the bottom of the natural  amphitheater of Cirque de Saint-Même.)  The entry to the amphitheater  offered a great place for a midday picnic by the river Quiers Vif.