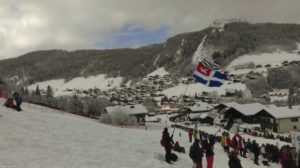 We spent four days attending the third biathlon world cup of the season in the village of Le Grand Bornand in Haute-Savoie department in France. We did not stay overnight in the village but in Annecy about 20 kilometers away, and commuted to the stadium every morning and back in the late afternoon. We shared our rental car with a lovely British (or actually British/Ukrainian) couple who had traveled all the way from London to cheer on their favorite British and Norwegian biathletes.
We did not have much luck with the weather on the first two days, but during the weekend the conditions got more favorable for the spectators, not necessarily for the athletes, as more snow fell and the temperature dropped below zero.
With the exception of our men biathletes (all 3 of them) qualifying to pursuit, our team did not have much success:  Kaisa Mäkäräinen was 12. in sprint, 10. in pursuit, and 14. in mass start, whereas Mari Laukkanen was 12. in sprint, 17. in pursuit, and 24. in mass start. While there were no podium performances, one needs to remember that there were more than 100 biathletes competing in sprint, 60 in pursuit, and 30 in mass start.
Overall it was a fun weekend, even if we had some worst luck we've ever had while traveling. First, our Flixbus from Grenoble to Annecy departed 50 minutes late and was one hour and 20 minutes late at arrival, which made us almost miss the first race. Plus we had promised to drive two people to the race. In the end we made it just on time!
Second, next morning after our sunrise run we could not open the door of the apartment. The key turned fine, but we could not push the door open.  We figured that the upper latch had locked when we closed the door, the latch for which we had no key! We tried to contact the owner, but did not hear back from him for a while. We had no money and the (faulty) battery of my phone was running low. The next three hours we shuffled (still running, since we were freezing after the morning run)  between the tourist office to get info about locksmiths and to call them (at the point when my phone was completely dead), the locksmith's shop, and Orange store (to charge my phone). The owner promised to send his wife to help us, but the locksmith came first — 30 minutes earlier than  promised. He was nice and very efficient, and finished his job in ten minutes. But it cost us 200 euros.